The New Orleans Pelicans could use someone like Zion Williamson right now but it appears that will have to wait.
The 21-year-old who underwent surgery to repair a fractured foot is still not at 100% health. Hence, Williamson is reportedly not expected to play this season, Shams Charania of The Athletic reported.
The good news is that Williamson is progressing in rehab. But with the 2021-22 NBA season nearing the playoffs, the All-Star may not be able to rejoin his teammates in time.
The Pelicans are expected to reach the play-in tournament once the regular season is over. They are at the 9th spot of the Western Conference with a 30-41 win-loss record, tied with the Los Angeles Lakers.
Even if the Pelicans manage to pull off a miracle and advance, the time frame may not be enough to see the 6-foot-6 cager back. Also, he is unlikely to be fielded extensively by head coach Willie Green.
Williamson never played a single game this season due to his foot issues. Last season, the top pick of the 2019 NBA Draft averaged 27 points, 7.2 rebounds and 3.7 assists in 61 games.
It was the most number of games he has played so far after appearing in only 24 games in his rookie year during the 2019-20 season.
Weight issues have hounded Williamson and this is seen as one reason that may have been hampering his recovery. To date, he has been doing stationary shooting and has allegedly been able to put weight on his foot.
Other than that, all Williamson can do is cheer on his teammates from the sidelines for now. The offseason could help him properly rehabilitate his foot. However, losing some pounds is seen as a need – especially due to his surgically repaired foot.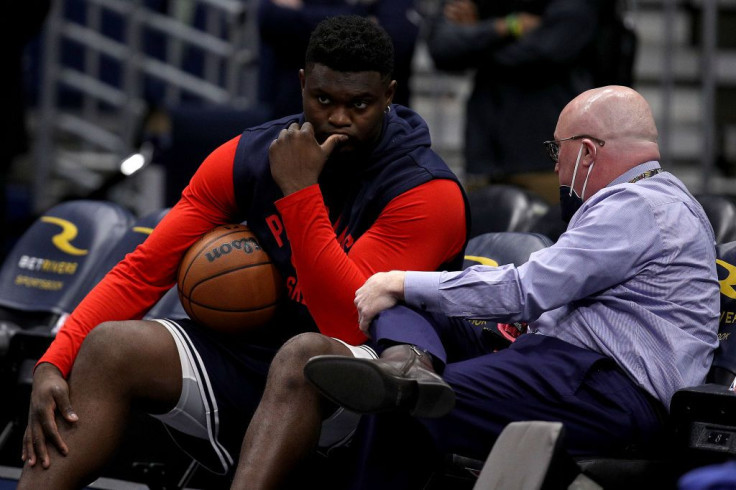 © 2023 Latin Times. All rights reserved. Do not reproduce without permission.