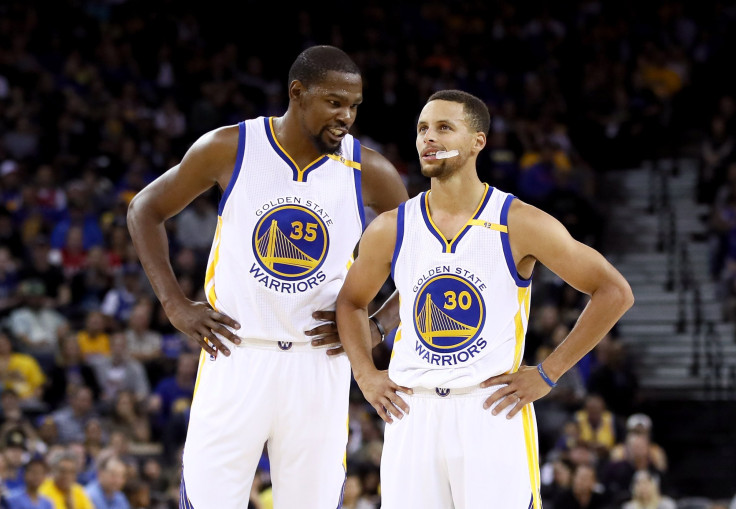 And just like that, the Golden State Warriors once again have the best record in the NBA.
Steve Kerr's squad has won 12 consecutive games giving them a 16-2 record. Meanwhile the Los Angeles Clippers are in a bit of a slump losing three straight games causing them to fall back to third place in the Western Conference. The San Antonio Spurs have taken over the No. 2 seed in the West.
Kevin Durant is gelling just fine with this Warriors team despite it being his first season removed from the Oklahoma City Thunder. Durant is averaging a team-leading 27.1 points per game this season while the former league MVP Stephen Curry is averaging 26.6 points per game. While many thought the Warriors would have trouble adjusting to the addition of a superstar like Durant, that clearly hasn't been the case.
Defense has been the only concern for the defending Western Conference champions. The Warriors are allowing 104.9 points per game against, which ranks 17th in the league. In all fairness, some of those points are coming when the game is out of hand in "garbage time."
LeBron James and the Cleveland Cavaliers recently lost to the Milwaukee Bucks bringing their overall record to 13-3. That's still good enough for the top spot in the Eastern Conference, but the Cavaliers want to have home-court advantage when the NBA Finals roll around. Don't be shocked if we see a Cavaliers-Warriors NBA Finals for a third consecutive year.
The Warriors won an NBA record 73 games last season beating out the 1995-96 Chicago Bulls led by Michael Jordan. Unfortunately for the Warriors, they fell short in the finals losing to the Cavaliers in seven games. Could this team win an NBA record 74 games? Only time will tell.
© 2023 Latin Times. All rights reserved. Do not reproduce without permission.