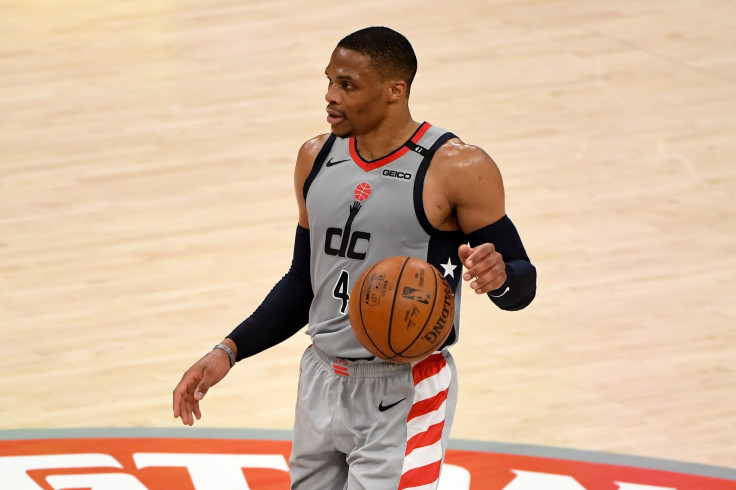 The NBA playoffs are understandably at a feverish pitch but it remains that fans should know their place. Although most know that games are nothing without the fans, that does not include disrespecting players like Russell Westbrook. The incident happened during the Washington Wizards game 2 loss to the Philadelphia 76ers at the Wells Fargo Center.
The former NBA MVP left the game in the fourth quarter after suffering an ankle injury. On his way to the dugout, a fan could be seen pouring popcorn on Westbrook that unsurprisingly drew his ire. The Wizards' guard wanted to confront the fan but was restrained by people who were escorting him.
According to the latest update on the incident, the fan has been banned indefinitely from the Wells Fargo Center and has lost all 76ers season tickets as a result of it. But clearly, it is something that is proof that some fans either need to be told where they stand or control their emotions.
Before the decision was handed down by the NBA, some personalities reacted vehemently to the Russell Westbrook incident. That included LeBron James, someone who is no stranger to such. The Los Angeles Lakers star tweeted that he (as a player) wanted to see the fan behind the popcorn throwing incident and believed there was no excuse behind the fan's actions.
Aside from the four-time NBA champion, others frowned at the incident. That included ESPN analyst Skip Bayless who said this should not be tolerated and that part of him wished that Westbrook could have been allowed to go after the fan.
Westbrook feels that fans getting rowdy during games has been getting a bit out of hand. The amount of disrespect is simply getting out of hand and some are crossing the line. He called on heightened security at arenas and will just wait on what the NBA will resort to.
Valerie Camillo, the president of business operations at the Wells Fargo Center stated the Russell Westbrook popcorn throwing incident, calling it classless and something they will not tolerate.
"This was classless, unacceptable behavior, and we're not going to tolerate it at Wells Fargo Center. We're proud to have the most passionate fans in the country and the best home-court and home-ice advantage around, but this type of behavior has no place in our arena," the statement read.
© 2023 Latin Times. All rights reserved. Do not reproduce without permission.