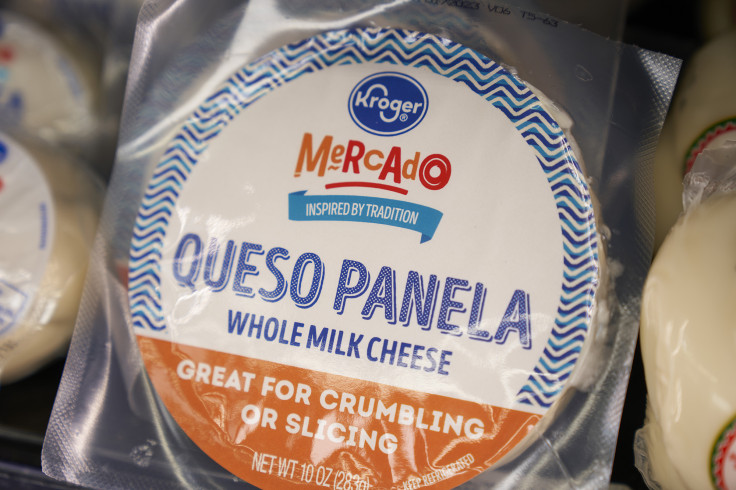 Mercado, a term that in the case of Latinos triggers a desire to go and shop, is the new concept and private brand launched by Kroger to cater to the fastest growing-community in the country.
The company is debuting this Hispanic-inspired brand as well as its first Hispanic-concept store just in time for Hispanic Heritage Month.
Kroger Mercado, the Cincinnati-based retailer said, will carry more than 50 products "including items such as fresh meat, beverages, snacks, sides, desserts and more."
The firm said in a press release that it wants to offer authentic products that are popular among Hispanic consumers.
"The line includes a range of items including core Hispanic ingredients needed to make a favorite treasured recipe to deliciously sweet and refreshing beverages."
Kroger says its Mercado line comprises Queso Fresco, Panela, Oaxaca cheese ball, flour tortillas, precooked white corn meal, chorizo ground sausage, thin-sliced beef strip steak, pork stew meat and chicharrones and pork crackling strips, among many other products.
This launching was accompanied by another Kroger novelty: a Hispanic concept store located in Houston, aimed to cater to all Latino community needs. The retail giant remodeled a local store to appeal to the neighboring Hispanic community. This revamp was led by Laura Urquiza Gump, president of the Kroger Houston Division, the first Latina to serve as division president. Urquiza Gump has been working as a President (Houston) at Kroger for 4 years, as per an article by Milenio.
Kroger's new store concept will offer a 100% bilingual shopping experience and, another first, a juice bar to fuel time-pressed customers in need of a quick breakfast or lunch.
How Hispanic Shoppers Evolve
According to Acosta, a consumer trends research firm, while Hispanic shoppers took to buying online in previous years (a habit that was reinforced during the pandemic), they also love shopping in-store and they are returning en masse to buy physically.
In a report, Acosta says: "A majority of Hispanic shoppers continue to choose to shop in-store, with two-thirds (67%) of (consumers surveyed) saying they enjoy shopping for the experience, back to pre-pandemic levels. They enjoy browsing in the aisles, and 40% say they will try new items if recommended by friends or family". Also, according to data compiled by Statista, home household expenditure of Hispanics in the US in 2021 by category showed that Hispanic households spent $1,104 dollars on fruits and vegetables, $1,285 on meats, poultry, fish and eggs, plus $1,767 on other food-at-home category on average.
Kroger seems to have chosen a key US State to reach out to the Hispanic community: according to a 2022 Pew Research Center Report, "Hispanics are the largest racial or ethnic group in California and Texas. This demographic milestone in California happened in 2014 and was a first for the state with the nation's largest Hispanic population. Latinos accounted for 40% of California's population in 2022, among the greatest shares in the country. In Texas, the state with the next largest Latino population (12.1 million), Latinos also made up 40% of the population in 2022 and became the largest racial or ethnic group in 2021. In Florida, the state with the third-largest Latino population (6.0 million), Latinos made up 27% of residents."
The Gross Domestic Product generated by Latinos in the United States grew by $400 billion, reaching $3.2 trillion, said the Latino Donor Collaborative in the 2023 edition of a report that showcases this group's contribution to the American economy.
© 2023 Latin Times. All rights reserved. Do not reproduce without permission.