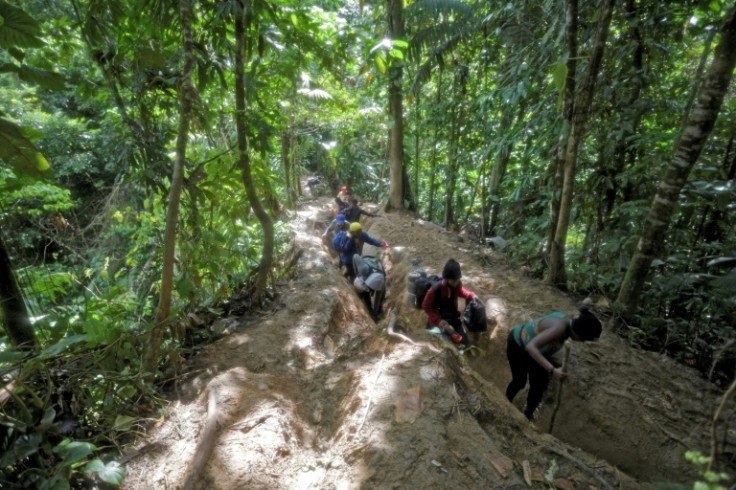 As New York City struggles to deal with an incessant influx of migrants, Mayor Eric Adams will travel to three Latin American countries in four days in hopes of stemming the flow of people coming from the region. His main goal is addressing what he said is misinformation given to migrants who then intend to seek asylum in the city.
The mayor and his team plan to visit Mexico, Ecuador and Colombia. In the latter country they will travel to the Darién Gap, a remote, roadless, mountainous rainforest with vast swamps more than 60 miles long connecting the border of Panama and Colombia and has become one of the world's most dangerous and crowded migration routes.
"There is a real safety risk," Adams said Tuesday at a press conference. "We are aware of that. The entire team that decided to be part of this trip, they are aware of that as well."
Adams said he would meet the President of Colombia, leaders in Ecuador and Mexico in order to start having a conversation "of what can we do better to deal with this crisis".
Adams says the city is at capacity with over 117,000 arrivals over the past year, but it is not expected the situation will change soon. Long lines are expected to return outside the Roosevelt Hotel with more than 400 migrants there awaiting placement and an estimated 600 arrivals daily in a new wave. Migrants are not only coming by buses, but arriving by different means like driving in and the airport.
The international trip is one of different attempts at dissuading migrants from coming into the city. Last week, New York City launched a canvassing campaign with this purpose. The one-page flyer, available in both English and Spanish, includes warnings like "New York City is one of the most expensive cities in the world: you are better off going to a more affordable city." The Adams administration has planned to distribute flyers at shelters and the southern border.
"We are going to tell them that coming to New York doesn't mean that you're going to stay in a five-star hotel," Adams said Tuesday at a press conference. "It doesn't mean that, the mere fact that you come here, that you automatically are going to be allowed to work."
Earlier in September, Adams announced that the ongoing migrant and asylum seeker crisis would cost New York City taxpayers more than $12 billion over the next three fiscal years. The mayor says the city has already spent nearly $1.5 billion in Fiscal Year (FY) 2023 to provide shelter and services to tens of thousands of asylum seekers.
Democrat Congressman Adriano Espaillat (NY-13) was set to join the trip but will no longer be able to due to the turmoil in Washington regarding Kevin McCarthy's ouster as Speaker of the House. Council Member Francisco Moya, who is from Ecuador, was going to join as well but at the last minute couldn't join because of a family matter.
There are some who don't see the reason for the trip: In a statement, Murad Awawdeh, Executive Director of the New York Immigration Coalition, has called Mayor Adams international trip pointless.
"If Mayor Adams really wants to learn more about the arduous journeys of asylum seekers seeking safety, he should spend a little more time speaking with them or organizations on the ground serving them. The list of delays and mismanagement in easing the burden on our shelter system is a long one – and something that this administration should prioritize. Mayor Adams has no authority to affect any international policy changes, making this travel even more ridiculous," said Awawdeh.
The Adams administration has formally asked a judge to suspend the city's "right to shelter" mandate as migrants continue to strain the city's shelter system. This kickstarts a months-long legal battle in court with homeless advocates.
© 2023 Latin Times. All rights reserved. Do not reproduce without permission.