The San Francisco 49ers starting quarterback question continues with most divided on whether Trey Lane is ready or Jimmy Garoppolo will be ready by the time the 2022-23 NFL season starts.
Most are aware that Garoppolo is coming off shoulder surgery in the offseason, something that raises questions about his health. Further, his contract situation is quite precarious.
Once cleared, the $7.5 million contract of Garoppolo for 2022 will be in focus. He will be guaranteed nothing unless he's on the Week One roster, NBC Sports reported.
Hence, it all boils down to whether the Niners are willing to shell out that considering they are transitioning to a new era with Lance.
Given his situation, the Niners would be lucky to find a trade partner for Garoppolo in roughly a month. Unless a team takes a risk in taking in the two-time Super Bowl champion, a likely scenario would see Garoppolo playing backup.
As far as money is concerned, the 49ers could dangle Garoppolo a reduced deal but as a backup. If not, he could be released outright if both sides cannot come to a deal.
Hence, the coming NFL season may not be promising for Garoppolo. NFL teams may first want to see how his recent surgery has affected his game before considering a deal. Hence, seeing him playing a couple of games first with San Francisco may be needed before he considers what his next move will be.
But the Niners are not entirely in the clear. A lot hinges on the performance of Trey Lance, assuming that he will be the starting quarterback this 2022-23 NFL season.
If the 22-year-old wilts, San Francisco may end up reverting to Garoppolo. But even that is no assurance with most clueless about his health state. Hence, a lot hinges on what most will see when the Niners open training camp.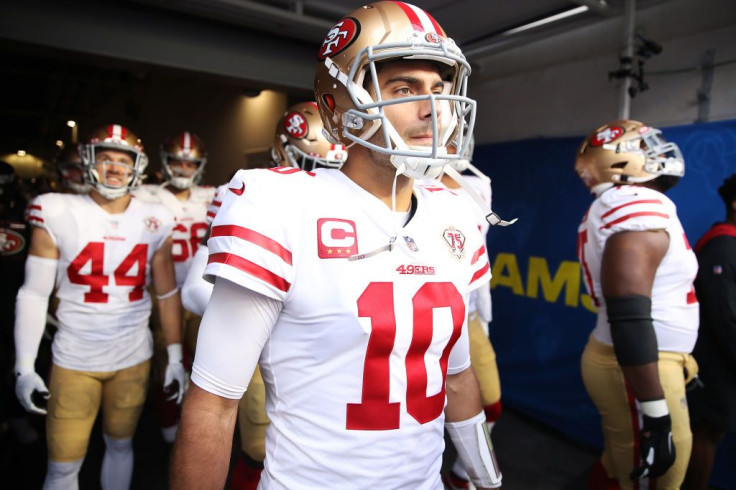 © 2023 Latin Times. All rights reserved. Do not reproduce without permission.