The Miami Dolphins are giving their top pick from the 2020 NFL Draft, Tua Tagovailoa, a chance to show his talent after naming the 22-year-old as the team's starting quarterback moving forward. Tagovailoa will get his baptism of fire as the Dolphins starting quarterback against the Los Angeles Rams on Nov. 1 after the team's bye week.
Until the recent change, it was Ryan Fitzpatrick calling the plays for the Dolphins. The 37-year-old is a beloved player in the locker room and was playing well until the decision to name Tagovailoa as the starting quarterback came. Fitzpatrick completed 70.1 percent of his passes this season for 1,535 yards and had a 95.0 passer rating. Further, he has 10 touchdowns and seven interceptions to show.
Regardless, Fitzpatrick knew that this day would come. He considered himself as a "placeholder" and vowed to back up Tagovailoa once the switch came. That has now come to fruition, ESPN reported.
Dolphins coach Brian Flores explained the move, saying that Tagovailoa earned the right to take on the starting quarterback role. The decision was reached after the 22-year-old player showed improvement in practice. He also added that Tagovailoa's debut against the New York Jets was part of the decision.
However, Flores was unhappy at one thing. This was the part where he failed to inform the team of the move with most learning about it from news outlets. He stressed that this was not the way things are done in Miami and that he planned to apologize to the team who found out about the move on social media.
"One thing on this situation that's unfortunate is that I didn't get a chance to address the team before this was out in the media. That's not the way I or we want to do business," Flores said. "That's unfortunate. I'm not happy about that at all. So I'll address that to the team and apologize that they had to find out on social media because I don't think that's fair to him."
Though he knew that the switch was coming, Fitzpatrick admitted that he was shocked and left brokenhearted after losing the starting quarterback role. He added that Flores called him to his office to inform him about the move on Tuesday.
"He likes to have those face-to-face conversations. That's the decision that was made. Not a whole lot I can do about it than move forward and accept my new role and help the team win in that role," Fitzpatrick said.
The 37-year-old has no immediate plans of retiring though he admits that a lot is going on in his mind. His contract with Miami expires at the end of the season, The Miami Herald reported.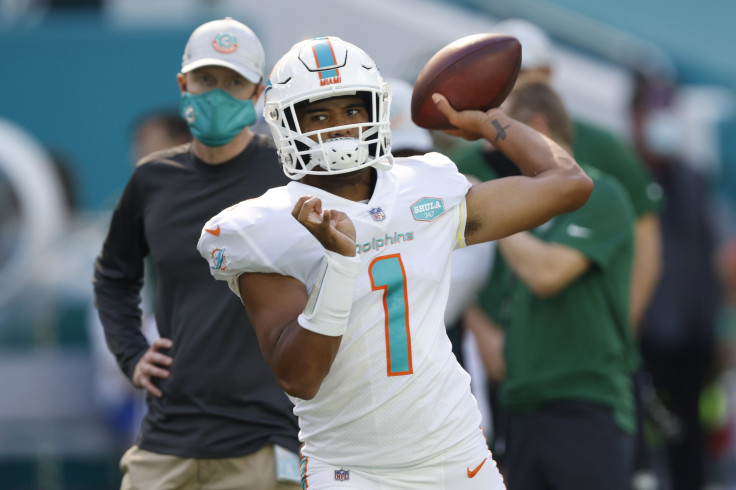 © 2023 Latin Times. All rights reserved. Do not reproduce without permission.