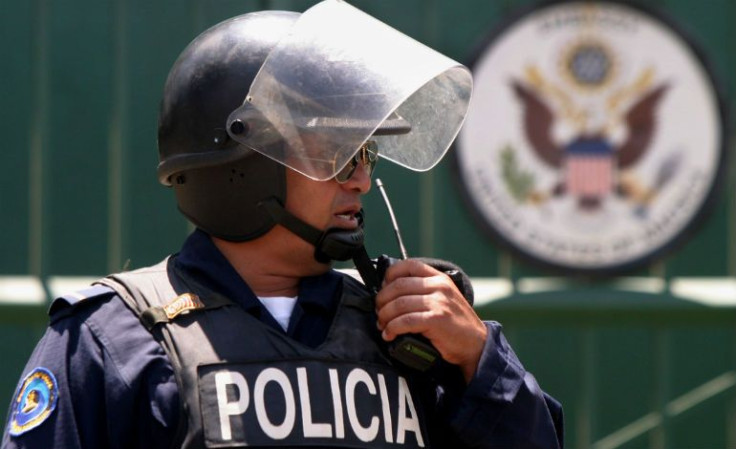 An anti-drug raid turns deadly in Nicaragua, leaving the entire nation in shock after national police opened fired at an innocent family.
The tragedy occurred Saturday night in Las Jaguitas in the capital of Managua when a family of seven heading home from church refused to stop after a group of unidentified men tried to pull them over on the road. The group of cops, who were running an anti-drug operation, opened fired, killing three people and injuring four others.
The victims are identified as Katherine Delgadillo, 22, Aura Marina Reyes Ramirez, 11 and Jose Efrain Perez Ramirez, 11. Miriam Natasha Guzman Ramirez, 5 and her 12-year-old brother Axel Reyes, are in serious conditions at the hospital in Managua.
"They shot at us and killed all of my children and sister," said Yelka Ramirez to local channel Canal 8, Ramirez was in the front of the car with her husband during the incident. "My husband thought they were robbers, so he continued driving. They [the cops] didn't stop, they began shooting at us."
Milton Reyez, her husband and father of the two children who passed away, emphasized: "We were coming from church and all of a sudden men wanted to stop us on the street, we thought they were robbers, so we kept driving," he said. "They shot at us three times, until I crashed with another car. Then I asked for the cop's help and they didn't offer it to us."
Chief Police and First Commissioner Aminta Granera stated that the tragedy derived from irresponsibility. "They [the police] must at least have a flashlight that identifies them as cops, verify that there's no children in the car, and they didn't do it," she said.
Granera also informed that all the participants in the anti-drug raid ---at least 22 police men-- will be transferred to the Directorate of Legal Aid for processing. President Daniel Ortega also ordered the men to be dishonorably discharged and prosecuted.
#LoQueseVive en #Nicaragua Un operativo antidrogas que ejecutaba la Policía Nacional la noche de este sábado en el sector de Las Jagüitas, en Managua, resultó en una verdadera tragedia cuando los agentes antinarcóticos, por confusión, abrieron fuego contra un vehículo particular en el que viajaba una familia de 7 miembros, tres de los cuales fallecieron debido a los impactos de bala.

Posted by Viva Nicaragua - Canal Trece on Monday, July 13, 2015
3 muertos deja masacre de las jaguitas. Conozca a las victimaswww.100noticias.com.ni

Posted by CANAL 15 on Sunday, July 12, 2015
© 2023 Latin Times. All rights reserved. Do not reproduce without permission.