In its latest tactics of weapons display, North Korea fired three short-range ballistic missiles on Saturday morning toward its eastern waters. The move came a day after South Korea conducted a rocket launch as part of its efforts to amp up its space-based surveillance as a means to monitor its northern neighbor after North Korea flew five drones over the border early last week.
The Associated Press said the three missiles were detected from an inland area south of Pyongyang somewhere in the Chunghwa area of North Hwanghae province around 8 a.m. In a statement from South Korea's Joint Chiefs of Staff, the missiles flew about 350 kilometers before crashing into the waters between the Korean Peninsula and Japan. The estimated distance range suggests these could reach and potentially target South Korea, prompting the Joint Chiefs of Staff to call out the North's action as a "grave provocation" while he asserted South Korea's readiness to deter any such offensives by the government of Pyongyang.
North Korea fired a total of 90 cruise and ballistic missiles in 2022, with experts forewarning of a potential nuclear test in the near future.
South Korea's President Yoon Suk Yeol called on the country to boost its air defense network at the same time vowed to face down North Korea's provocations. The South Korean president has initiated the expansion of its military drills with the United States even as North Korea accused such military drills were a rehearsal of a plotted invasion.
South Korean and U.S. diplomats jointly denounced North Korea's recent missile launches and have agreed to reinforce their efforts and work together closely to bring the denuclearization of the North. The launch of a solid-fueled rocket from South Korea, which resembled a space launch vehicle, was developed to finally put the country's first spy satellite into orbit soon. This was a follow-up test to its first successful launch in March which has brought some reprieve from the military's recent failure to shoot down the five drones from the North.
It was the first time in five years North Korea has deployed drones across its tense borders, one of which reportedly reached northern Seoul causing South Korea to scramble squadrons of state-of-the-art fighter jets, attack helicopters and prop-engine warplanes.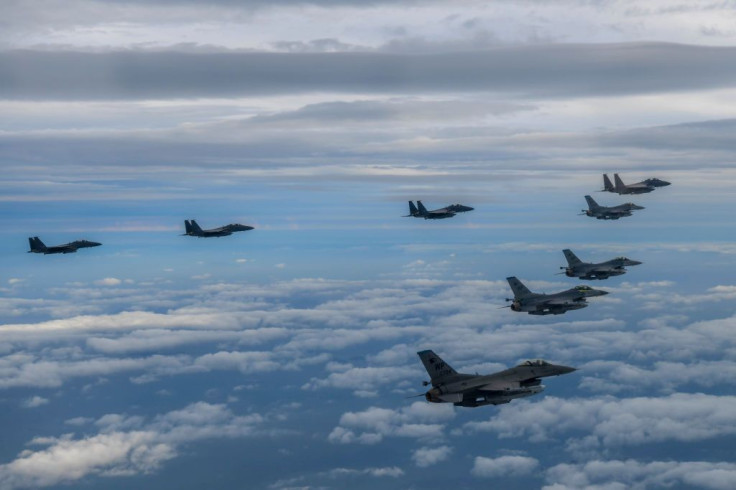 © 2023 Latin Times. All rights reserved. Do not reproduce without permission.