The mother of a 2-year-old boy in Oklahoma who suffered a collapsed lung and stopped breathing after contracting COVID-19 last July recalls the horror of putting her son on life support. Makayla Hunziker had already spent several days in the PICU after her son, Grayson was admitted at The Children's Hospital at Saint Francis when his condition took a turn for the worse.
At the time, the boy's attending doctors had already advised his mother that her son would have to be intubated and put on a ventilator. She had stepped out to get breakfast after being asked to leave as doctors performed the procedure. But within minutes, she was called in to return to the hospital immediately.
"They said we need you to come and make some decisions regarding Grayson. The doctor said he had coded (emergency requiring resuscitation)."
Despite being a pediatric nurse, Hunziker was not able to take in all the information she was being given by the doctors. "They said we had to make a decision but I really did not know what we were making. I stood staring as the option was putting him on life support or letting him die." The boy had suffered a collapsed lung while being intubated and had stopped breathing twice.
Grayson was eventually put onto an ECMO machine to help keep his heart and lungs functioning. The young boy was kept on the machine and a ventilator from July 26 to Aug. 9 as he was still experiencing several major issues. He was taken off life support but with the ventilator kept on for a week. He was later put on high-flow oxygen as he managed to pull through his condition in over a month.
According to The Sun, Grayson and his 22-year-old mom had been in a medical nightmare since he was just a month old. As a baby, he suffered from a handful of medical issues including Diabetes Insipidus, a condition where a person struggles to hold fluids and urinates himself into dehydration.
On top of this, the boy also suffers from Hypothyroidism, Adrenal Insufficiency, Panhypopituitarism, Septo Optic Dysplasia, Periventricular Nodular Heterotopia, Optic Nerve Hypoplasia, Schizencephaly, seizure disorder and blindness.
Hunziker recalls having been to endless appointments with her son and being by his side through each and every surgery, but says her boy had been toughing it out all the way. But what she thought was just a mild cough, had suddenly turned into heavy wheezing. "One minute he was happy playing and then the next two hours he was struggling to breathe," the young mother said.
She had gone to work that day and the boy's grandmother called to let her know that Grayson already had a fever. Her colleagues advised her to bring the boy in for a swab test and results came back positive.
Hunziker said she was in complete denial, citing that no one in her family had Covid. But seeing how Grayson's body had swelled up along with "blood everywhere" during that harrowing moment, the boy's parents had to make a quick and crucial decision to put the boy on life support.
Grayson spent a month in the hospital but managed to pull through despite facing slow progress. He is currently undergoing several therapies to get him back to functioning normally while still being fed through an NG tube. To this day, doctors have been baffled by the fact that Grayson has not lost weight despite being unable to eat for one week during his stay at the hospital. A number of medical tests and procedures are being done to help determine the cause of his obesity.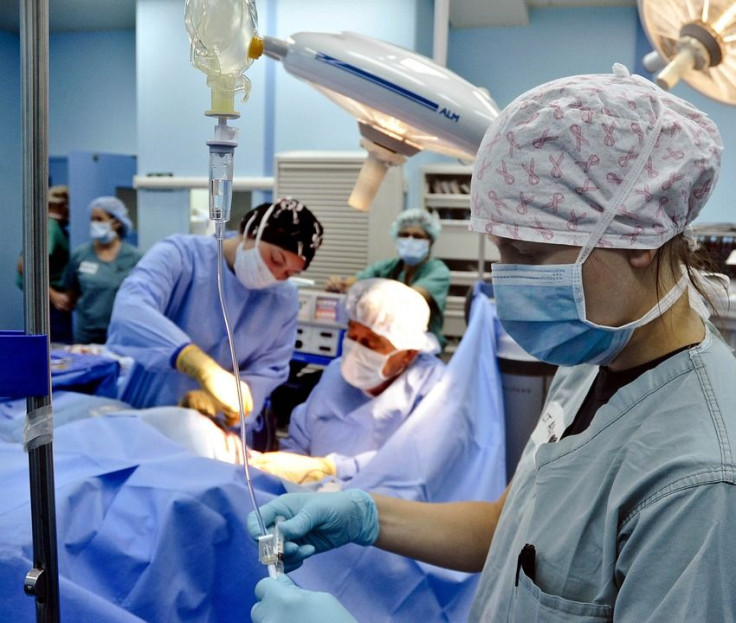 © 2023 Latin Times. All rights reserved. Do not reproduce without permission.