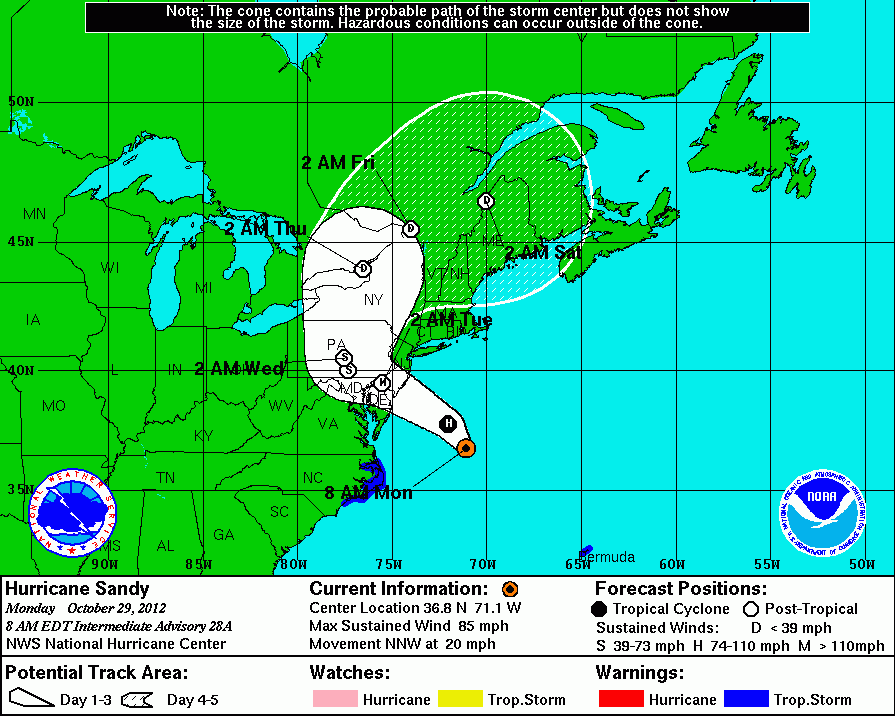 Sandy is furious and has put the city that never sleeps to bed.
The "power storm" that is Sandy has forced the U.S. stock exchange to close on Monday and will more than likely keep those doors shut through Tuesday, Oct. 30. If the stock market is close tomorrow, it will be the first time since 1888 that the stock market has colsed two days in a row because of weather.
"We support the consensus of the markets and the regulatory community that the dangerous conditions developing as a result of Hurricane Sandy will make it extremely difficult to ensure the safety of our people and communities, and safety must be our first priority," the market said in a statement. "We will work with the industry to determine the next steps in restoring trading as soon as the situation permits."
This is the third time that the stock exchange has suspended trading because of weather-related events. In 1985, Hurricane Gloria forced the markets to close and in 1969, a snowstorm brought the markets to a halt.
The stock exchange initially planed to stay open for electronic trading.
The NASDAQ Stock Market and other NASDAQ OMX-owned U.S exchanges and markets and the FINRA/NASDAQ Trade Reporting Facility will be closed for business on Monday, October 29 and and pending confirmation on Tuesday, October 30.
NASDAQ OMX exchanges outside the U.S. will be open for business on Monday and Tuesday as scheduled.
"The decision was made in consultation with other U.S. exchanges, government officials and regulators - including the Securities and Exchange Commission (SEC)," NASDAQ said in a statement. "The continuity of our markets and a variety of factors related to Hurricane Sandy's movement up the Eastern Seaboard were considered, including the state of emergencies declared by New York City, New York State and other state and local governments."
In New York, the Metropolitan Transportation Authority (MTA) has suspended all subway, bus and commuter railroad service and nearly all schools in New York City are closed.
According to the National Hurricane Center, Sandy is located about 265 miles southeast of Atlantic City, New Jersey and 310 miles south southeast of New York City with maximum sustained winds of 85 MPH.
It is expected to make landfall in Atlantic City this afternoon.
The center said Sandy is expected to bring life-threatening storm surge and coastal hurricane winds plus heavy appalachian snows.
© 2023 Latin Times. All rights reserved. Do not reproduce without permission.