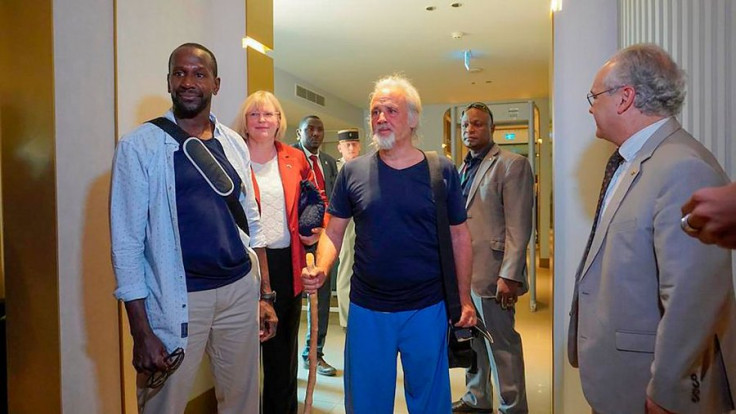 The terrorists who had kidnapped a U.S. humanitarian worker and a French journalist in West Africa have now freed them. Monday saw the arrival of Olivier Dubois and Jeffrey Woodke at a Niamey airport.
While Mr. Dubois was held hostage in neighboring Mali for nearly two years, Mr. Woodke went missing in Niger in 2016.
Their release was secured following efforts by authorities in Niger.
Speaking in Niamey, Mr. Dubois, 48, said it was "amazing for me to be here, to be free".
"I feel tired, but I'm fine," he added. "I want to pay tribute to Niger for its skills in this delicate mission and pay tribute to France, to all those who have helped me to be here today,"
Interior Minister of Niger Hamadou Souley stated that the two were released following "several months of efforts" by Nigerien authorities, before being given to French and U.S. authorities.
The details of how and when the men were freed from their captors are unclear, said reports.
The announcement of Mr. Woodke's release came days after U.S. Secretary of State Antony Blinken traveled to Niger for an official visit, becoming the first top U.S. diplomat to do so.
White House National Security Adviser Jake Sullivan said he was "relieved" and thanked the authorities in Niger for "bringing [Mr Woodke] home to all who miss and love him".
"I thank so many across government who've worked tirelessly toward securing his freedom," he added in a tweet.
In October 2016, Mr. Woodke, a missionary and humanitarian relief worker who had spent more than 30 years in Niger, was taken at gunpoint from his Agadez residence, BBC reported.
Meanwhile, Mr. Dubois started working as a freelance writer in Mali in 2015 for the weekly news publication Le Point and the Paris-based daily newspaper Libération.
In a video uploaded on social media in May 2021, he personally announced his kidnapping, claiming he had been kidnapped in the northern city of Gao by the Support Group for Islam and Muslims (GSIM), the main jihadist alliance in the Sahel region of Africa which is linked to Al-Qaeda.
Following his release, Libération editor-in-chief Dov Alfon said, "We are deeply relieved and happy about this outcome." French President Emmanuel Macron thanked Niger in a tweet and said Mr. Dubois was in "good health" after speaking to him.
The GSIM is a militant jihadist organization in the Maghreb and West Africa formed by the merger of Ansar Dine, the Macina Liberation Front, Al-Mourabitoun, and the Saharan branch of Al-Qaeda in the Islamic Maghreb.
It is the official branch of Al-Qaeda in Mali after its leaders swore allegiance to Ayman al-Zawahiri.
© 2023 Latin Times. All rights reserved. Do not reproduce without permission.