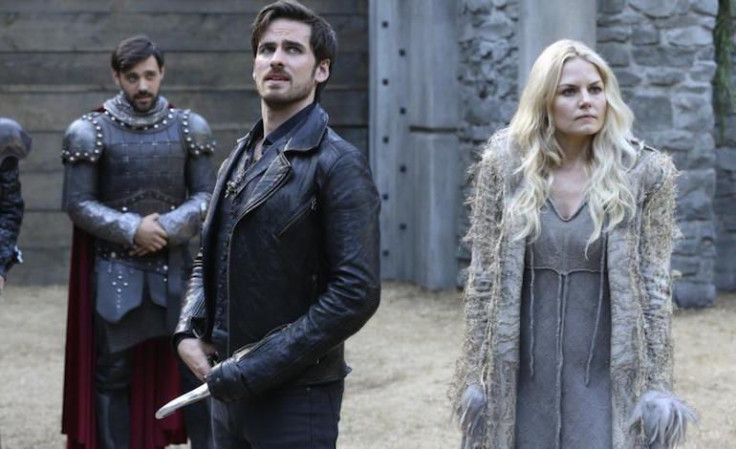 Tonight is an all new episode of "Once Upon a Time" on ABC and from the promo trailer and sneak peek vids we know we'll get some more details on what went down in Camelot before our heroes lost their memories.
The sneak peek clip starts with Henry (Jared S. Gilmore) summoning dark Emma (Jennifer Morrison) to ask what happened in Camelot and apologizes for failing her and letting her succumb to darkness. Emma reveals that it wasn't Henry who failed her, but everyone else. Regina (Lana Parrilla) then appears to question Emma about their lost memories and to tell her she can be the savior/hero Storybrooke needs.
The synopsis for "The Price" reads: "In an effort to protect Emma, Regina steps up in a surprising way that will test her mettle as a force for good. King Arthur and Queen Guinevere throw a royal ball to welcome the heroes to Camelot, but when the celebration takes a deadly turn, David and Robin must leap into action or lose a crucial asset in the fight to save Emma. Back in Storybrooke, Hook deploys a tried-and-true technique in hopes of bringing Emma back to the light while the heroes discover that some unexpected baggage has followed them home from Camelot."
Joana Metrass will guest star as Guinevere and Liam Garrigan as King Arthur. We'll also see Andrew Jenkins as Percival, Olivia Steele Falconer as Violet, Gabe Khouth as Mr. Clark/Sneezy, Michael Coleman as Happy, David-Paul Grove as Doc, Faustino Di Bauda as Sleepy, Jeffrey Kaiser as Dopey, Mig Macario as Bashful and Raphael Alejandro as Roland.
"Once Upon a Time" "The Price" will air on ABC, Oct. 4 at 8:00 p.m. EDT. ABC does offer a live stream on its website and you can catch the premiere live from the networks iOS and Android app. The episode will also be available the next day via OnDemand and Hulu or for purchase from iTunes and Amazon.
If all else fails viewers can watch the "Once Upon a Time" season five premiere here, here and here.
© 2023 Latin Times. All rights reserved. Do not reproduce without permission.