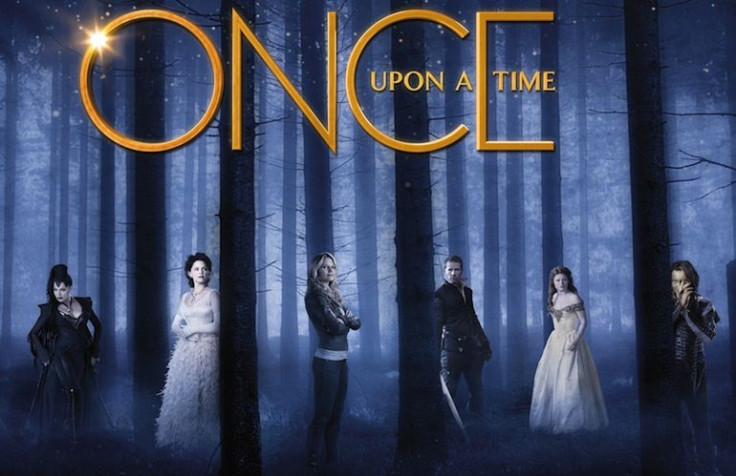 We've only got three more weeks until season five of "Once Upon a Time" premieres on ABC and we cannot wait to see what goes down. Luckily the network has released a new promo trailer so we have a better idea of what to expect from the season.
In the brief 30-second teaser fans will definitely be left with more questions than answers such as: Why are Zelena (Rebecca Mader) and Hook (Colin O'Donoghue) fighting? Why are the Storybrooke people in their normal clothes while meeting King Arthur of Camelot? Who is standing in the mythical circle of stones from "Brave?" And last but not least, what in the world is going on at Granny's causing that massive earthquake?!
Furthermore, according to the season synopsis, the Storybrooke gang will be attempting to "cope" with Emma's (Jennifer Morrison) transition in darkness. But in no way does that mean they will give up on the savior. Snow (Ginnifer Goodwin), Charming (Josh Dallas), Regina (Lana Parrilla) and Hook will do whatever it takes to get the old Emma back and that includes searching for the mysterious and powerful wizard Merlin (Elliot Knight).
"'Once Upon a Time' returns to the ABC Television Network for its fifth season and master storytellers Edward Kitsis and Adam Horowitz ("Lost," "Tron: Legacy") invite everyone to join Emma Swan, Snow White, Prince Charming, The Evil Queen, Hook and all the other resident fairytale characters as they cope with Emma's new role as The Dark One and begin the search for Merlin. This is a journey that will take our heroes from the Enchanted Forest to Camelot and along the way bring many surprises, including encounters with a brave and headstrong Scottish princess named Merida," the synopsis reads (via Design & Trend).
On the season four finale, "Operation Mongoose," our favorite Storybrooke heroes saw Emma go from being the savior to becoming the Dark One in order to save Regina. Emma tasked her parents Snow and Charming with taking the darkness out of her again as Hook begged her not to go through with it. In the end, darkness took over and Emma is pulled into a vortex that takes her away.
We'll finally see the fallout of that decision when "Once Upon a Time" returns Sunday Sept. 27 on ABC at 8/7c.
© 2023 Latin Times. All rights reserved. Do not reproduce without permission.