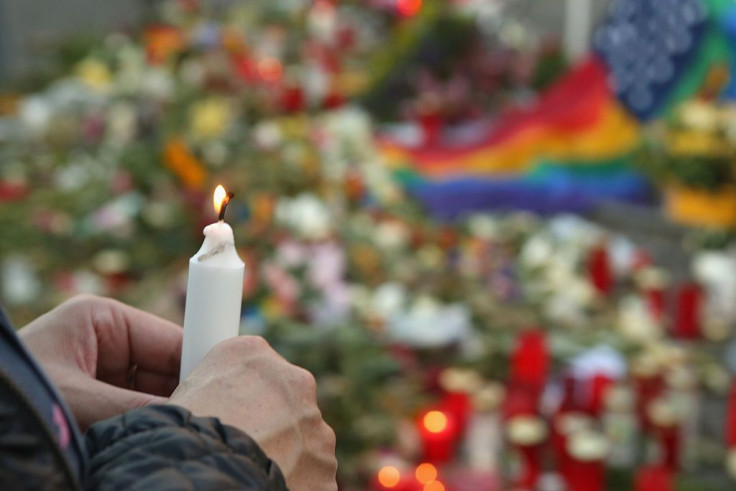 Hundreds of people have gathered outside the Pulse Nightclub in Orlando to commemorate and remember the victims a year after the horrible massacre that took their lives. Forty nine people were killed and 58 wounded on June 12, 2016 when Omar Mateen opened fire in a terrorist act, which was later linked to the Islamic state, and considered as one of the deadliest shooting by a single person and the deadliest act of violence targeting LGBTQ people in United States history.
The city of Orlando, in collaboration with Pulse, declared the day of the anniversary as Orlando United Day: A Day of Love and Kindness. "This day is dedicated to the memory and honor of the 49 innocent lives taken at Pulse, reaffirms the community's commitment to survivors and loved ones, as well as recognizes the global compassion and love displayed in the wake of the tragedy," city officials said in a statement.
The ceremony was open to survivors and family and friends of those who were killed, but from the outside hundreds of people showed sympathy with flowers, toys, letters and more.
According to the local press, the ceremony will be followed by three main events: a midday service held at the nightclub, an evening gathering called Orlando Love: Remembering Our Angels and a music-filled celebration held at Pulse. Likewise, churches will be ringing their bells 49 times for the victims, listed below:
Stanley Almodovar III, age 23
Amanda Alvear, 25
Oscar A. Aracena-Montero, 26
Rodolfo Ayala-Ayala, 33
Alejandro Barrios Martinez, 21
Martin Benitez Torres, 33
Antonio D. Brown, 30
Darryl R. Burt II, 29
Jonathan A. Camuy Vega, 24
Angel L. Candelario-Padro, 28
Simon A. Carrillo Fernandez, 31
Juan Chevez-Martinez, 25
Luis D. Conde, 39
Cory J. Connell, 21
Tevin E. Crosby, 25
Franky J. Dejesus Velazquez, 50
Deonka D. Drayton, 32
Mercedez M. Flores, 26
Peter O. Gonzalez-Cruz, 22
Juan R. Guerrero, 22
Paul T. Henry, 41
Frank Hernandez, 27
Miguel A. Honorato, 30
Javier Jorge-Reyes, 40
Jason B. Josaphat, 19
Eddie J. Justice, 30
Anthony L. Laureano Disla, 25
Christopher A. Leinonen, 32
Brenda L. Marquez McCool, 49
Jean C. Mendez Perez, 35
Akyra Monet Murray, 18
Kimberly Morris, 37
Jean C. Nieves Rodriguez, 27
Luis O. Ocasio-Capo, 20
Geraldo A. Ortiz-Jimenez, 25
Eric I. Ortiz-Rivera, 36
Joel Rayon Paniagua, 32
Enrique L. Rios Jr., 25
Juan P. Rivera Velazquez, 37
Yilmary Rodriguez Solivan, 24
Christopher J. Sanfeliz, 24
Xavier E. Serrano Rosado, 35
Gilberto R. Silva Menendez, 25
Edward Sotomayor Jr., 34
Shane E. Tomlinson, 33
Leroy Valentin Fernandez, 25
Luis S. Vielma, 22
Luis D. Wilson-Leon, 37
Jerald A. Wright, 31
People took to social media to express their condolences to those affected, and ask for a more compassionate world.
After the attack, people close to the perpetrator alleged that Mateen could have been gay or bisexual, and that it was not the first time he attended Pulse. The New York Times reported that the FBI was skeptical of reports that Mateen was "gay but closeted," and that he had made use of homosexual bars or apps.
Mateen, 29, died by eight gunshot wounds by police officers, and was married to Noor Salman. According to the Associated Press, the FBI said the widow of the gunman does not represent any threat to the community, has no connections to the Islamic State group or holds extremist views, and will be released from jail before her trial. Salman, 31, pleaded not guilty in a Florida court.
© 2023 Latin Times. All rights reserved. Do not reproduce without permission.