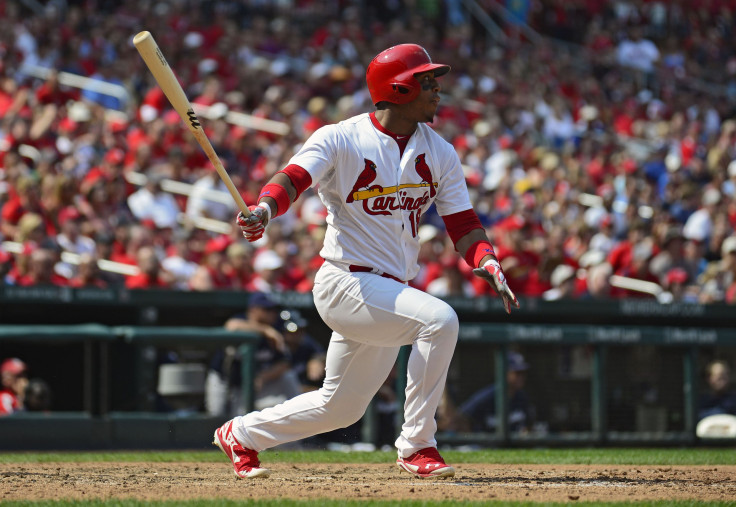 This is the case of a chronicle of a death foretold. On Sunday, October 26, St. Louis Cardinals outfielder, Oscar Taveras, 22, lost control of his 2014 Chevrolet Camaro and crashed into a tree in Dominican Republic. Both him and his girlfriend, 18-year-old Edilia Arvelo lost their lives in the tragic accident. The MLB world was in shock and pain, as they lost one of the top prospects in the majors, but his death comes after years of erratic behavior and surrounding himself with bad crowds.
It's not a shocker that a video the Dominican slugger and his girlfriend shot before the traffic accident revealed that they were drinking and driving and wearing no seatbelts, since according to a December 2012 article from "Detrás del Rumor" "In our streets, we've seen him regularly accompanied by friends, drinking a lot until the early hours of the morning and maybe exposing his physical security unnecessarily." The piece adds that although Sosúa, Tavera's hometown, was filled with pride and hope with Oscar's performance, all of his good conditions for the baseball game could be in jeopardy because of his young age and "an undisciplined behavior outside the baseball field."
At the time, Winston "Chilote" Llenas, a former MLB infielder/outfielder and fellow Dominican, commented on Taveras' antics. He said that friends who were a bad influence surrounded the young baseball player. "Saint Louis has told us they want Oscar to play, that he needs to improve his defense and game," Llenas said according to "Detrás del Rumor." "He's surrounded by bad influences, his friends are up to no good." He went on, "We haven't suspended him, we have retained his salary because he hasn't earned it."
"We do have the right to suspend him because he left. We're in front of a totally inexperienced boy who is not prepared to receive so much attention. If today there are no videos showing how he really is and how drunk he gets it's because we all want to protect him. Because he's one of us. But if he keeps going that way, he's a talent at extreme risk and he could waste the opportunity that seems to have come to him." These words are almost prophetic. It's a shame that Taveras lost his life in that car accident. To read the full article in Spanish CLICK HERE.
© 2023 Latin Times. All rights reserved. Do not reproduce without permission.