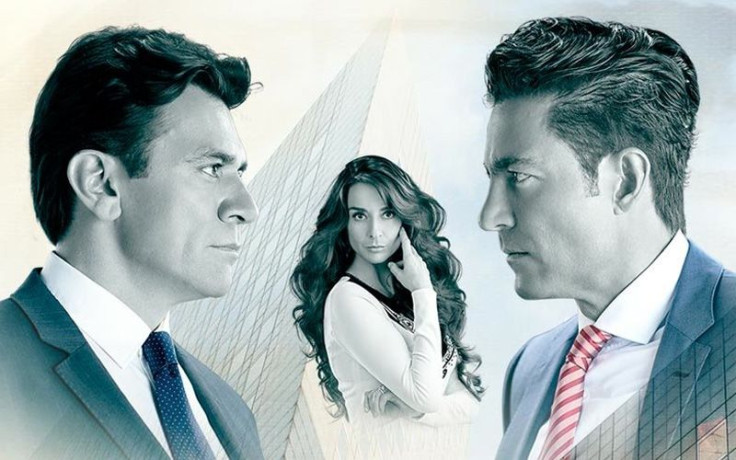 Univision's primetime telenovela "Pasión y Poder" is ending in a couple of weeks, but it aired it's last episode in Mexico. The soap starring Fernando Colunga, Susana Gonzalez, Marlene Favela and Jorge Salinas has captivated US audiences since the beginning and now we know what happens in the finale. Spoiler Alert! Spoiler Alert! With control of Eladio's (Colunga) company, Franco (Danilo Carrera) throws David (José Pablo Minor) out. Julia (Gonzalez) tells Arturo (Salinas) that she is going to side with Eladio to regain control of his company. Arturo doesn't understand why Julia is going to back him up. Julia explains that it's because her son's patrimony is at stake as well. Julia tells Arturo that if he can't understand her, they shouldn't be together. Arturo leaves because he doesn't want to say something he can't take back. Franco is looking for the papers that prove he's guilty, but David had taken them on his way out.
Regina (Michelle Renaud) breaks up with her boyfriend. Erik (Alejandro Nones) is now in jail and is being bullied by the other inmates as they attack him physically. At the associates meeting Gabriela (Fabiola Guajardo) brings in a recording that has a conversation between Franco and Arturo with the former willing to sell inside information. Nina (Favela) is worried for her son in jail, but Arturo says that he has to pay for what he did. With the recording they want to prove that Franco cannot be trusted. Now, thanks to Gabriela's stock, Eladio is the majority stakeholder. Franco goes crazy after Eladio evicts him from the company and says he will prosecute him legally. Before Franco leaves, he drops a bombshell on Julia by telling her that Gabriela always knew that Franco was Eladio's son. Julia feels betrayed by Gabriela, but she tries to explain to her she only found out when she married Franco.
Franco pays Julia a visit to reveal that Arturo and her father were working together behind her back. Julia confronts her dad as he has never acted like a father. She tells him to leave her home, she can't forgive his betrayel of trying to break her and Eladio up. Julia can't forgive her father has always "sold her to the highest bidder." David visits Regina to wish her the best in her new life with Jorge. David apologizes for going out with Daniela and his intentions were never to hurt Regina. Regina tells David that she is not going to marry Jorge because she's still in love with him. "You have no idea how much I waited for this moment, but...," David says. Regina asks, "because you don't love me anymore?" David doesn't want to take her back because she doesn't believe she will fight for their relationship. Regina tells her mother Nina that she will fight for her love with David. Julia's father calls Arturo to warn him that she knows the truth. Arturo suggests he assume the consequences like he will have to when he faces Julia again.
Julia argues with Eladio about all the lies he's told her. Julia is disappointed and can't seem to forgive Eladio as she has lost trust in him. In jail, Erik is being bullied again and this time they cut off his fingers in a truly grotesque manner. Julia comes face to face with Gabriela once again, the latter tells the former that she never revealed the truth because Julia was happy at the time and she didn't want to ruin that. Julia forgives Gabriela as she knows how manipulative Eladio can be. Julia says she never wants to see Eladio again.
Eladio takes Julia's father to an asylum where they don't treat their patients well. Police find the dead body of Marintia and inform Eladio that it was possibly Franco who murdered her. Erik kills the man that was bullying him in prison. Agustín requested the custody of Diego, which made Gabriela happy. Julia finds out that Regina and David are back together and is extremely happy. Agustín confesses that he loves Gaby. David asks Regina to marry him with the "worst engagement ring," (a nut) as she put it. Eladio and Arturo come face to face and swear to always respect each other. Arturo feels grateful for having him as a business rival.
Franco has Julia to gun point. Franco wants to kill her as Julia is the person Eladio loves the most. Franco wants to admit that he is the way he is because Eladio never recognized him as his son. Arturo reaches for the gun out of Franco's hand and save Julia. Franco shoots Arturo. Then Franco tries to shoot Eladio, but Arturo distracts him and Franco shoots him again. Arturo loses a lot of blood and doesn't resist... he dies in the arms of Julia and Eladio. Franco is now in jail and is not remorseful for what he did. Erik finds out that his father passed away and is saddened because he was not able to apologize to him, blames himself for being a bad son.
Consuelo visits Erik in jail so he can see his son. Erik asks her not to return as he doesn't want his son to see what a bad example he would be. Erik says that his son deserves a father like Miguel. Agustín is finally able to adopt his baby and Gabriela is right there with them. Julia is saying goodbye to Eladio as she needs some distance from him. Julia feels the only thing they did right was raising David. Julia forgives Eladio from all the wrongs she did. Eladio says he has nothing to forgive Julia for. Julia tells her son David that Eladio is a great man that respects her decisions now, but she wants to be alone for now.
Eladio proposes David and Regina to be directors of a new company that will unite the Gomez-Luna and Montenegro families. Eladio meets up with Julia in her travels through San Francisco. Julia and Eladio want to be in each other's life. Eladio gives Julia a ring as a symbol of love. FIN.
© 2023 Latin Times. All rights reserved. Do not reproduce without permission.