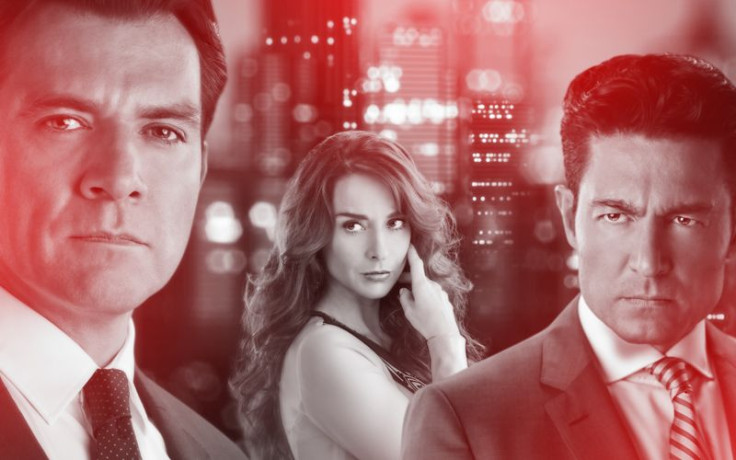 Univision is in a rut with the latest telenovela offerings from Televisa that have left a lot to be desired. The ratings slump is only an echo of what the Mexican production company is experiencing in its homeland. Those effects are being seen on the Hispanic network and "Pasión y Poder" is the biggest disappointment amongst all its lineup. This is the primetime telenovela, the one with the biggest budget, the one with the ensemble cast, with well-known stars, but something completely went wrong. Neither Fernando Colunga nor Jorge Salinas have been enough to save this disaster from the creators of "Teresa" and "Rubí."
We can play the blame game and point fingers saying that people are time-shifting the telenovela. With episodes from these soaps readily available on the Univision website, Hulu and the newly-released UnivisionNOW app, viewers don't have an urgency to watch it day-to-day. Maybe ratings rise when these shifters are played in, but the reality is that same-day viewing is down and that's where the real money is at. TV networks have been struggling to make appointment television and it's because "Pasión y Poder" is not all that captivating to merit putting off other plans and sitting in front of the tv at 9pm every night.
So what will make viewers tune in? We have several ideas on how we can fix "Pasión y Poder." Keep in mind, we are not telenovela writers, nor do we wish we were. The pros are where they need to be, we are only commenting as viewers and what we would like to see happen.
1. Make Eladio Really Evil: We feel that because Fernando Colunga has always played lead roles, who have a moral compass, the writers didn't want to make him really and truly evil. If he's the villain, make him do real bad things. Look at "El Señor De Los Cielos." That gay is a drug-trafficker and you have the audience cheering him on, against the police officers that are trying to serve justice. Isn't that twisted? We are sure, writers can make Colunga a murderer, but lovable at the same time.
2. Make Eladio Good: If writers are afraid of ruining Colunga, then destroy that idea of making him pure evil. Make him nice and don't make him completely go to the dark side. This will provide a twist to the storyline. This has to be done ASAP before he can't go back.
3. Make Jorge Salinas A Villain: We've all seen the horrible attitude this guy has displayed while promoting this telenovela time and time again. The viewing public already has a negative stigma towards him, maybe use that negativity to make him a real villain in fiction. We already saw how feisty he is with the media, maybe he can turn all that rage and let it out as his character.
4. More Importance To Young Couple: One of the few things that actually work on "Pasión y Poder" is the love story between the young leads played by Michelle Renaud and José Pablo Minor. This pairing is probably the only thing that production got right as the couple have great chemistry. We know they already have a lot of airtime, but maybe give it even more importance to drown out all the extra baggage in the background that is clearly not important.
5. Kill Off Characters: This is a mini spoiler, but one major character is facing death in the upcoming episodes. This really is going to give life to the telenovela as there will be various suspects and the viewer won't know who killed this character until later. This is a good method to keep viewers wanting to watch the telenovela and guess who the killer us. Let's take that one step further and kill off more characters that are unnecessary and revamp the cast.
6. Throw Away Those Scripts: For the love of the telenovela Gods and throw away those boring scripts. We know that production is really close to air and they need a lot of filler, but nothing happens. Episode to episode, day to day, nothing relevant or exciting happens. This is one of the major problems. Production can't do any complicated scenes because that would entail more time to film and they just don't have much time. Well maybe instead of spending time having the actors travel to Peru to promote this piece of garbage, they could've allotted that time to create more lavish scenes.
7. End It: Put "Pasión y Poder" out of its misery. Jorge Salinas was part of the cast of a telenovela called "Atrevete A Olvidarme" years ago. That telenovela did so bad in the ratings that Televisa ended it after only a couple of episodes aired. It was cut with no consideration. We are sure that if this telenovela is shipped to midnight or to "engalanar las tardes de Univision" (like "El Talismán") nobody will even notice.
We love telenovelas and are really sad that this project was not able to work out as it had an incredible cast. Some soaps just don't work and this is one of those moments. We hope changes happen and are reflected on tv quickly before we are really over it and don't even come back after this one ends. Oh wait, Angelique Boyer is expected to return in a new telenovela. We didn't mean that Univision, of course we won't stop watching "u," get it? What do you think of "Pasión y Poder?" Sound-off on the comment section down below!
© 2023 Latin Times. All rights reserved. Do not reproduce without permission.