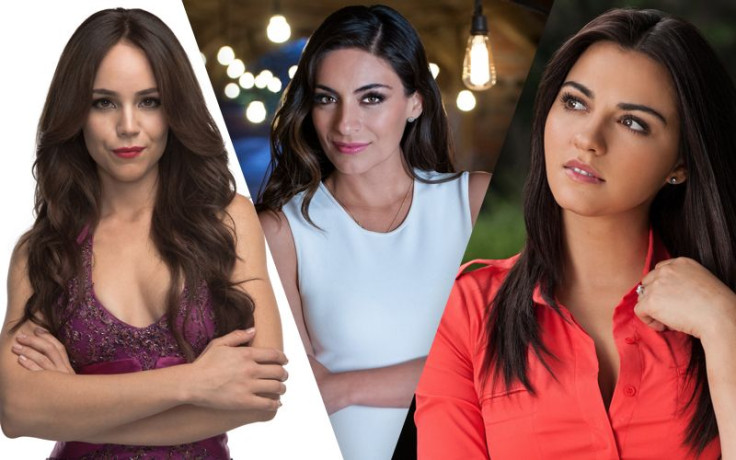 Univision is the top-rated Spanish-language network in the U.S. and they are prepping for the new Fall season with more telenovelas, sports, specials and reality shows. We know primetime without soaps is a big no no and Univision will continue bringing our favorite celebrities in brand new productions. "Lo Imperdonable" starring Ana Brenda and Iván Sánchez is premiering this month on the network. It is a tale of revenge and love that starts off when Alejandro travels to the jungle where his half-brother, Martin, is mining gold to satisfy the ambition of the woman he wants to marry. Betrayed by the woman two weeks before he strikes gold, Martin takes his life before his brother arrives. His grief-stricken brother, Alejandro, travels back to the city to get revenge by marrying the woman who caused this tragedy and making her life miserable. But the only clue he has to her identity is a medallion engraved with a mysterious phrase. When he encounters two women with names that match, he discovers his plan flaw: revenge can turn into love. Filmed in Huasteca, one of the most exotic and bio-diverse locations in Mexico.
Camila Sodi, Thalia's niece, is returning to telenovelas with "A Que No Me Dejas, Corazón." From the producer of the megahit "Amor Bravio," this telenovela is a sweet story of young love that is sure to leave viewers speechless with anticipation night after night. This is a story where despite obstacles and betrayal, love does triumph, if not in the present at least it will in future generations. It is a harrowing story where power, envy, selfishness and the desire for possession tragically mark the deep love between Paulina and Adrián, who nevertheless manage to perpetuate their love through their daughter Valentina and their beloved Mauricio.
After starring as "La Gata," Maite Perroni will now be Lichita in "Antes Muerta Que Lichita." This story follows Lichita, who has been working at an ad agency for eight years, but feels undervalued and invisible. Deciding it's time for a change, she transforms herself from the office "whipping girl" into the empowered Alicia. But no climb to the top is ever easy; along the way, she faces situations that test her character and values. At the same time, the single mother who raised her is undergoing a similar journey–a path toward entrepreneurship. This story about women finding their power within features innovative storytelling techniques, like one character's empowerment blog and a novela-within-a-novela which fans can follow online.
Reality shows will be part of the Sunday-block to gather the whole family together. "Parodiando" will make its return this will with a VIP version where celebrities will imitate other celebrities. In this weekly mashup, participants are divided in two groups led by two captains. Viewers will laugh their heads off as this talented group of stars competes for the top spot. Celebrating the 10th anniversary of "Nuestra Belleza Latina" in 2016, "NBL 10" will follow popular runners-up from past seasons come back to battle for the crown, and fans determine the challenges they'll face. Audiences can expect the unexpected, including a new "Mansion," a renovated set, and more digital interaction than ever between the fans and the girls. After a smashing first season, "Va Por Ti" is back to find the next Latino superstar. In this musical reality competition, three of Latin music's biggest stars each choose and coach a team of aspiring singers. Celebrity judges evaluate the performance of the singers; but in the end, only one will be the winner. Each week one internationally renowned artist joins the other celebrities as a guest judge, and viewers vote to save their favorites. Read more new programming coming your way down below and tell us what you're most excited to watching!
AWARD SHOWS
"Social Media Awards" - The most social consumer segment in the country will now have its very own Social Media Awards. For the first time in TV history, Hispanics will honor and recognize the most influential social media players and celebrities who create the social media content they love. The Awards will recognize celebrities and web personalities that produce amazing content on Twitter, Facebook, YouTube, Instagram and Vine. From top trending videos online, to the best of TV, Music, Fashion, and the Web, the most influential personalities on social media will get together for this ceremony, bringing their millions of followers with them. (Primetime, Univision)
"MISS UNIVERSE®" – Univision now has the exclusive, Spanish-language broadcast and digital rights to air MISS UNIVERSE pageant through 2019. Contestants representing about 88 countries participate in three categories: swimsuit, evening gown, and interview. The event consistently ranks as the most watched and most coveted property and entertainment show around the world. (Primetime)
UNIMÁS NETWORK
Dramatic Series
"La Viuda Negra 2"(Black Widow 2) – On the heels of last year's runaway hit, this next installment continues the franchise that had viewers in "La Viuda Negra's" spell last year. Ana Serradilla reprises her role as Griselda Blanco, the "cocaine godmother" who virtually ruled the Miami drug trade in the 1970s and early 1980s, coming back to take back what she feels is rightfully hers. (Primetime – Televisa and RTI)
"Lady, La Vendedora de Rosas" (Lady, The Rose Seller) – This series follows the true life story of the rise and fall of Colombian film star Lady Maria Tabares, played by Natalia Reyes as a proud and powerful woman. Tabares grew up selling roses on the streets of Medellin. Her life was changed when she was cast to play the starring role in the Victor Gaviria drama La Vendedora de Rosas (The Rose Seller), a Palme d'Or contender in 1998. Lady Tabares won several awards at international film festivals (including Cannes), but her ascent to stardom was short-lived when in the ends she finds that fame comes at a cost. (Primetime, Sony Pictures Television and Teleset)
"Niño Santo" (Holy Child) – This innovative weekly dramatic series explores the classic conflict between what you believe and what you see. The series follows a group of young doctors sent to a remote village to vaccinate the locals, where they encounter an unusual cult headed by an enigmatic faith healer. Curiosity leads the doctors to become involved with this group in the name of science. As they witness Niño's miracles, they begin to weigh scientific impossibility against the possibility of faith. With Executive Producer, Pablo Cruz, and Co-Producers Gael Garcia Bernal and Diego Luna (Y Tu Mama Tambien), the series was written by Mauricio Katz and Pedro Peirano. (Canana and Canal Once, distributed by Engine Entertainment)
"Logout" – This dramatic series tells the story of Diego, a young man who was incarcerated after making a drug purchase on the internet and who is then accused of murdering his family. Amid many twists and turns, Diego spends fifteen years behind bars only to face more obstacles after being released when he discovers that his sister is still alive and in the hands of sex traffickers. This crime drama offers an innovative transmedia second screen feature that will give viewers exclusive access to digital content in real time as part of the linear story. (Primetime – Televisa).
"Ruta 35" (Route 35) – This dramatic series follows Dylan Wilkins and the band of criminals he recruits to help him in his relentless pursuit of drug lords and other wanted felons. The criminals become informants for ICE (Immigration and Customs Enforcement) and the DEA (Drug Enforcement Agency) in exchange for reduced or dropped charges. Driven by different motives, such as fear and revenge, they risk their lives everyday on dark and risky missions. Viewers will have exclusive access to a parallel, original 10-episode companion digital series. "Ruta 35" features Danna Garcia, Miguel Rodarte, Julio Bracho and Osvaldo Benavides. (Primetime – Cisneros Media)
"Esmeraldas" (Emeralds) – Based on the real-life wars over emerald trades in Colombia, "Esmeraldas" is a saga of romance, intrigue and generational wars in La Victoria, a small town that might well be described as a "green hell." The way of the jungle is law, fed by the greed awakened by emeralds. The Guerrero family arrives thinking they will escape the violence of the city, but are forced to live in a remote place, where the emerald bonanza leads to bloody wars that affect every generation. (Primetime, Caracol)
"El Dandy" (Inspired by Donnie Brasco) – The story of a law professor who is recruited by the state prosecutor's elite special operations program to infiltrate one of Mexico's most notorious drug rings. Setting out to identify all of the members of this covert organization, he quickly finds that his keen aptitude for police work is matched only by the sense of danger he experiences living a precarious double life. He gets in deep with the mafia and the once incorruptible professor must choose between returning to an ordinary life as an upstanding citizen or fully embracing his dark side. (Primetime, Sony Pictures Television/Televisa)
Talk Shows
"Roxanna" – Actress and comedian Roxanna Castellanos will entertain Hispanic America with a new daytime talk-variety show. Featuring a live studio audience and a mix of celebrity interviews, comedy sketches, segments with real people, families and more, the show brings the TV personality's humor to the big stage along with celebrity guests such as Eugenio Derbez and Galilea Montijo. (Daytime, Cisneros Media)
"La Revista de Zuleyka" – Beauty queen, actress, and entrepreneur Zuleyka Rivera brings her fashion savvy and magnetic energy to her own magazine-style daytime show featuring smart lifestyle content on beauty, fashion, cooking, relationships, parenting and more. The Puerto Rican Miss Universe proves that she's more than a beautiful face with topical news discussions, segments on news you can use and feature stories. The show also offers tips and advice for today's women. (Daytime, Cisneros Media)
Award Show
"MISS USA®" – With more than 3300 contestants from all 50 states and the District of Columbia competing for the title, the MISS USA telecast forges on. Last year's winner, Nevada's own Nia Sanchez, might not be ready to give up her crown, but hundreds of hopefuls are anxious to take on the swimsuit, evening gown, and interview categories to take the top spot. The telecast will also feature three separate musical performances, as well as individual segments featuring the contestants in their everyday lives. (Primetime)
UNIVISION DEPORTES
"UD Fantasy"- The launch of UD Fantasy aims to engage the 41 million players of fantasy sports, "our sport within the sport." Fans will be able to create their own fantasy team and compete for the overall ranking, join private leagues with their friends, and challenge UD talent. "UD Fantasy" will launch in July 2015, for the next Liga MX Apertura and gradually expand to other leagues.
"Copa America Centenario" – A soccer event 100 years in the making. Sixteen national teams, including the United States, Mexico, Argentina and Brazil, compete for the first time on U.S. soil for the championship of all the Americas. Two major soccer confederations – CONCACAF and CONMEBOL – come together in the super tournament of a lifetime to celebrate the 100th anniversary of the Copa America. (June 2016)
"Campeón de Campeones" – Much more than a soccer match, the Campeón de Campeones tournament is a full day event of sports, entertainment, and fan fests. The two champions of Mexico's Liga MX, the most watched soccer league in the U.S, will face off for the first time for the new Campeón de Campeones trophy, $1 million in cash and national bragging rights as the top team. The event will also feature the two champions of Copa MX in a battle for the Super Copa. (Primetime – August 2016)
"The Senadoras Search" – The search for the Senadoras is on. "Republica Deportiva" is looking for the most creative, talented, and beautiful women to be a part of the show and represent the Univision Deportes brand across UCI shows and at live events. Preliminary rounds will be held on digital platforms, with exclusive content, a fan voting process, and social media interaction. Finalists will go to Miami to determine who is chosen as the 2016 class of Senadoras.
UNIVISION NOTICIAS
"Top U.S. Latinos" – Univision recognizes, celebrates, and empowers the Latinos whose distinctive work in their fields of expertise demonstrates the positive impact U.S. Hispanics are having on all aspects of American life. The series spotlights successful Hispanic leaders in different industries across its network TV and digital assets.
Destino 2016: Elections and More - As the No. 1 news organization for Hispanic America, Univision Noticias will be present from the first day of the campaign through to the inauguration to provide Latinos with the content for full civic participation. Univision's coverage of the elections looks beyond the universe of party politics, informing and empowering our civic-minded viewers with innovative storytelling. EMMY Award-winning anchors Jorge Ramos and Maria Elena Salinas, the biggest names in Hispanic news, serve as the voice of the Hispanics community.
"Destino 2016: The Hispanic Vote" - In 2016, no story will be bigger than the next presidential election. After the results of the 2008 and 2012 elections, all eyes will be on the Hispanic electorate. Univision will cover the Hispanic vote in four stages: Kickoff on Super Tuesday (March, 2016); Coverage from the Conventions (July/August, 2016); Heavy-up coverage around VP and Presidential debates, following the candidates on the road, and wall-to-wall election day/night coverage (October/November, 2016); and the Presidential Inauguration (January, 2017).
"Destino 2016 Special: United Stories of America"- At over 20 million strong, U.S. Hispanic voters will be exercising their right to choose on the issues that matter to them the most when they cast their ballots in 2016. But behind every election are individuals striving each day to live their American dream. "United Stories of America" will provide an introspective and creative look into 16 Latinos across 8 battleground states to deliver 16 stories of 16 unique Latino Americans tied together by their common cultural bonds.
"Destino 2016 Special: #MyFirstTime"- Every 30 seconds a U.S. Hispanic turns 18, so hundreds of thousands of eligible Hispanics will be entering the electorate as first-time voters in 2016. Given Hispanics' pivotal involvement in the 2012 election, all eyes will be on this group as they exercise their vote in this open-seat presidential election. Spearheaded by young Hispanic talent, this special cross-platform, socially-driven franchise program will shed light on young voters' paths to the polls and what it means to them to be doing their civic duty.
"Don Francisco, El Último Gigante" (Don Francisco, The Last Giant) – Don Francisco, whose real name is Mario Kreutzberger, is the host of Sábado Gigante. He has been on the air for 53 years, becoming the man with the longest on-air career in TV history. Through a unique and exclusive documentary, Univision News, presents a journey through Don Francisco's life, his achievements, the conclusion of his variety show and his plans for the future.
DOCUMENTALES UNIVISION
"Violación de un Sueño: Jornada Nocturna" (Rape on the Night Shift) – Following up on the award-winning collaboration that produced "Rape in the Fields/Violación de un Sueño," Univision, Frontline, The Center for Investigative Reporting (CIR), the Investigative Reporting Program (IRP) at UC Berkeley, and KQED are teaming up again to examine rampant sexual abuse of immigrant women in the janitorial industry. Every night, as most Americans head home, a million janitors begin their night shift. They are alone, isolated in empty buildings – and vulnerable. "Violación de un Sueño: Jornada Nocturna" investigates a sector of society rarely seen, and exposes under-reported atrocities happening in the malls where you shop, the banks where you do business, and the offices where you work.

Panorámica Documentary Series – Participant Media's Pivot Network and Univision News will continue to present its original documentary films on topics of interest to Hispanic Viewers. America Ferrera will continue to introduce the documentaries in the Panorámica series, providing context for these compelling films that explore issues of special interest to both networks' audiences.
© 2023 Latin Times. All rights reserved. Do not reproduce without permission.