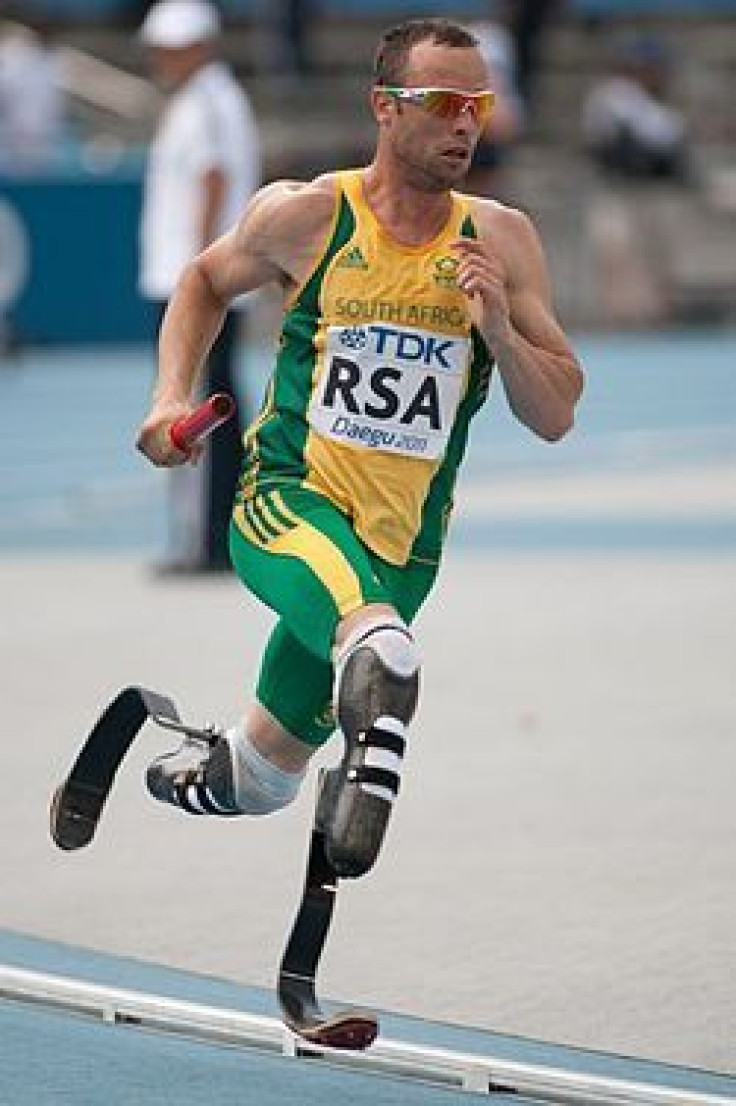 South Africa's Sunday Times wrote that Oscar Pistorius, the 26-year-old Paralympian star, was seen out at a restaurant in Johannesburg last Saturday night. The runner was allegedly drinking and carousing in a way that patrons felt may have been unbecoming to a man accused of murdering his girlfriend Reeva Steenkamp.
Pistorius claims that he killed Steenkamp accidentally, saying he shot her through a locked bathroom door in the dead of night after having mistaken her for an intruder. He faces charges of premeditated murder.
Witnesses to Pistorius' visit to the Kitchen Bar, a trendy spot in northern Johannesburg, said he was "relaxed-looking and talkative" and accompanied by a male friend and bodyguards.
"He was drinking shooters and he was flirtatious. He didn't seem like someone [who had] lost the love of his life," one patron of the restaurant, whose name is not given, said.
Another patron said that the runner was downing shots and flirting with women. The woman quoted said that Pistorius even gave a woman "a little pat on her backside" after greeting a couple.
Pistorius' night out in Johannesburg was his first since the incident, which happened on Valentine's Day. He may have been discouraged from going out by his bail conditions, which did not permit travel abroad or alcohol consumption. Last month he successfully challenged them. His spokeswoman, Anneliese Burgess, said the one-time national hero has been trying to reengage with people again after spending months in virtual isolation. Burgess says that while the runner was indeed out and about on Saturday night, he was not acting the inappropriate manner suggested by the alleged witnesses. She said that he visited two different restaurants but quickly left when he felt he was attracting too much attention in both establishments. "It is regrettable that what was supposed to be a low-key evening reconnecting with friends is now being blown out of proportion for sensational reasons," she said.
Pistorius first rose to prominence in the 2012 Olympics, when he won three medals in the Paralympic Games in London. He had been dating Steenkamp, a model, for about two months at the time of her death. Police had previously gotten involved in a "domestic situation" with two of them at Pistorius' home.
Previously Pistorius and his family released a statement condemning social media attacks on Steenkamp's family by Pistorius supporters. The Twitter group known as #Pistorians cheered on his lawyers at a bail hearing.
The athlete will return to court on June 4.
© 2023 Latin Times. All rights reserved. Do not reproduce without permission.