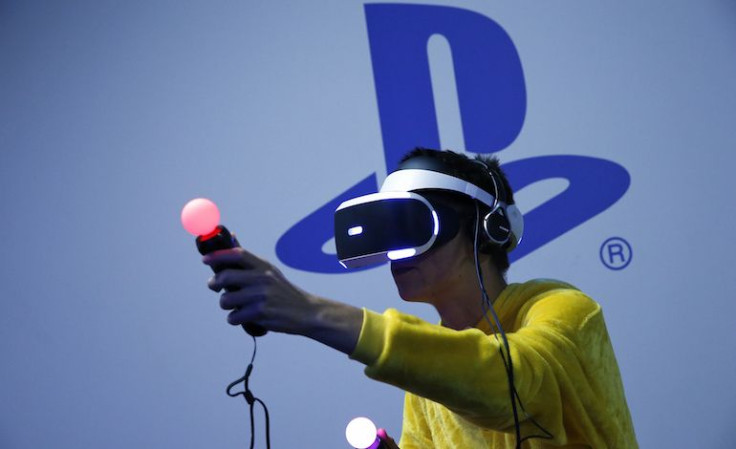 The PlayStation virtual reality headset is still months away from being released but Sony has revealed it will bring the headset to retail locations for gamers to try, before they buy. Mega video game retailer GameStop will be hosting demo stations for the forthcoming HTC Vive and now it has been confirmed that the store has big plans to showcase the PlayStation VR this year, reports Destructoid.
According to Fortune, Sony Interactive Entertainment VP of marketing John Koller told GameStop executives and investors during a presentation early last week that the company intends to give consumers upwards of 500,000 in-store demos across retail locations between June and December of this year.
While we don't know how many stores will receive the VR system, GameStop CEO Paul Raines revealed that the set up time for the PSVR is quite easy and he thinks because of that more GameStop locations will receive the demos.
Raines said, "We've played all the VR that's come through our office, and the setup time for PlayStation VR is significantly easier and the space required to demo is small, so I expect we'll have a lot of demos in store, unlike the Oculus or HTC."
Meanwhile, if you're hoping to try out the PSVR before June, you may be in luck. Justin Massongill from the PlayStation Blog revealed the company will bring 10 titles to PAX East in Boston for players to get a hands-on experience with the virtual reality system. So if you're headed to PAX East you'll get your chance to play one of the 10 titles below:
"Rez"
"InfiniteJob Simulator"
"Thumper"
"Headmaster"
"Gnog"
"Harmonix Music VR"
"Wayward Sky"
"Rush of Blood"
"RIGS: Mechanized Combat League"
"VR Worlds"
The PlayStation VR is set to launch in October of this year for a suggested retail price of $399.
© 2023 Latin Times. All rights reserved. Do not reproduce without permission.