It has been almost 27 years since the original comedy "Police Academy" hit the big screen. That went on to have sequels although changes in the cast members ensued.
One of the original stars of the first installment of "Police Academy" is Officer Mahoney played by Steve Guttenberg. He continued to appear in the different installments, the last of which was on "Police Academy 4: Citizens on Patrol."
That was the last most saw of Mahoney and changes in the cast told heavily. The last of the series was "Police Academy: Mission to Moscow" which hardly made the grade compared to the earlier installments.
Regardless, it is never too late to see Guttenberg back as part of the alleged "Police Academy" reboot. The only problem is that there would be major changes, assuming that his insinuations are spot on.
Guttenberg said on The Metro that fans have not seen the last of Officer Mahoney, leading to speculations that a reboot may be in the works. Considering that most old films that made it big in the previous years, it will be interesting to see a "Police Academy" reboot.
However, not all cast members from the beloved comedy are expected to be back. Some have already passed away such as George Gaynes (Cmdt. Eric Lassard), Bubba Smith (Sgt. / Lt. Moses Hightower), David Graf (Sgt. Eugene Tackleberry) and Marion Ramsey (Laverne Hooks).
Aside from Guttenberg, the notable ones still alive include Michael Winslow (Larvell Jones), Leslie Easterbrook (Sgt./Lt./Capt. Debbie Callahan) and G. W. Bailey (Capt. Thaddeus Harris).
Incidentally, Easterbrook was somehow mentioned recently with TMZ conspicuously highlighting her and what she looks like now.
In all, there will be major changes should "Police Academy" have a reboot. Guttenberg, Winslow and Easterbrook could be back but likely with higher ranks or non-police-related characters.
Hence, it all depends on who among the young and modern-day actors and actresses are involved. Nothing has come close to that although people are hoping to see something close to that hit comedy from the 80s.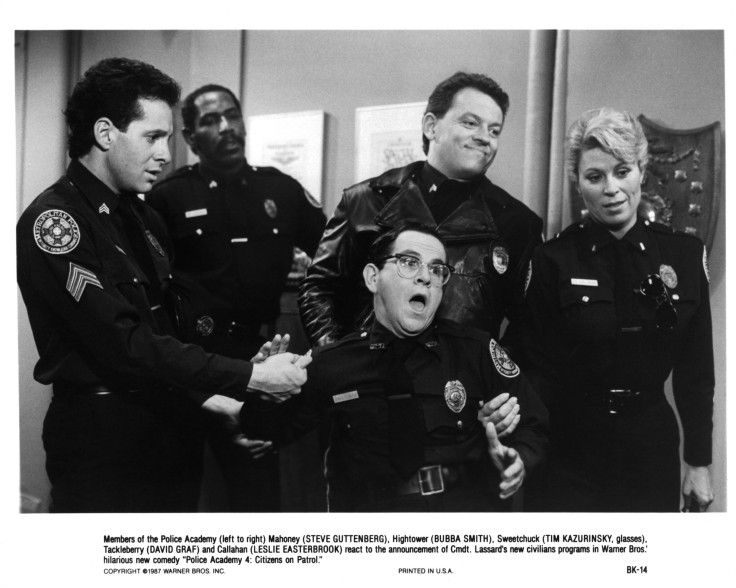 © 2023 Latin Times. All rights reserved. Do not reproduce without permission.