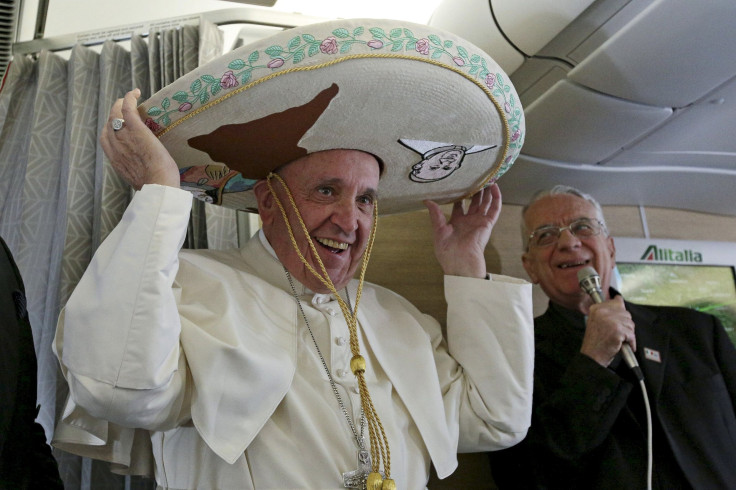 Pope Francis met with Instagram co-founder and CEO Kevin Systrom on Friday to discuss the power of images, according to Time. And no, this is not another fake pope selfie; Systrom and Francis posted photos of the encounter on their respective accounts. Ahead of the meeting the Instagram team curated a collection of 10 instagram posts which they compiled into a printed book for the Pope. Each photos chronicled a civil rights issue that has surged into international headlines in the past year.
One of the ten images selected for the leader of the Holy Roman Catholoc Church portrays the eight-year-old son of Adán Abrajan de la Cruz, one of the 43 students at the Ayotzinapa Teachers Rural School who went missing after being kidnapped under orders from local civil officials. The photo was taken by Adriana Zehbrauskhas , a Brazilian photographer who captured the boy, Angel, reaching towards a helium balloon pressed against the ceiling of a house. Zehbrauskhas to Twitter after hearing of the meeting, saying that it was "an honor to have one of my pics included in the book."
The Vatican has tried hard to capture the attention of young people on social media. Pope Francis' Instagram account started gaining traction in 2013. Instagram, meanwhile, is fighting for relevance as Facebook (it's parent company), Twitter and even Snapchat become integral parts of 2016 presidential coverage and political discussion.
Pope Francis declined to meet with a group of Ayotzinapa victim advocates during a recent trip to Mexico. The activists, mostly parents of the missing, dispute a government investigation that argues that the victims were murdered and then incinerated. International forensic investigators have contradicted the government's accounts.
© 2023 Latin Times. All rights reserved. Do not reproduce without permission.