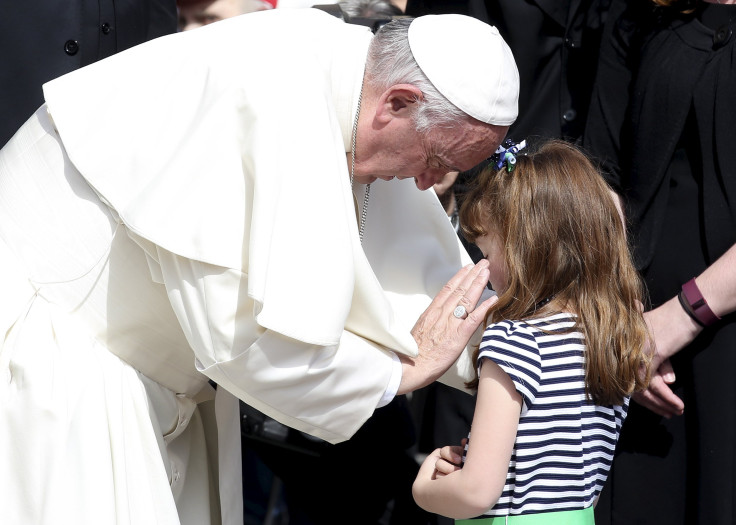 Pope Francis helped Elizabeth "Lizzy" Myers, a 5-year-old girl suffering from Usher's Syndrome, fulfill one of her "visual bucket list" wishes on Wednesday when he invited her and her family to join him during his morning service at the St. Peter's Square at the Vatican in Rome.
Lizzy, who is gradually losing her eyesight due to the rare genetic disease, was hoping to only catch a glimpse of the Pontiff during her visit but was pleasantly surprised when she found out that not only was she meeting him, but he was also giving her his blessing.
"She was awestruck. She just teared up," her mother Christine Myers told reporters after the ceremony. "To her he's the big guy in the white hat." Lizzy's mom added that Papa Francisco "blessed Elizabeth's eyes" and asked that they "pray for him and said that he would be praying for them."
VIDEO: 5-year old Lizzy Myers, sees #PopeFrancis this morning - her wish before she goes blind. He blesses her eyes. pic.twitter.com/Z8AxRtKxMP

— Catholic News Agency (@cnalive) April 6, 2016
Lizzy's dad, Steve Myers, told the Associate Press that they never "expected in a million years that they would come that close to the Pope." According to AP, a Turkish Airlines executive had heard the family wanted Lizzy to meet with the Pope before she went blind and arranged free airfare for the three of them.
Prior to their visit to the Vatican, the family also saw the Colosseum and other monuments in Rome. "I feel like I have very little time to show her so much," Lizzy's dad told NBC News.
Lizzy's parents revealed their little girl is not aware of her condition yet, which is why they decided to start the "visual bucket list" project that includes sites and people they think she should see while she can, and before she begins to ask any questions. The Myers added doctors have given Lizzy about seven years to enjoy the wonders of the world before she completely loses her sight.
© 2023 Latin Times. All rights reserved. Do not reproduce without permission.