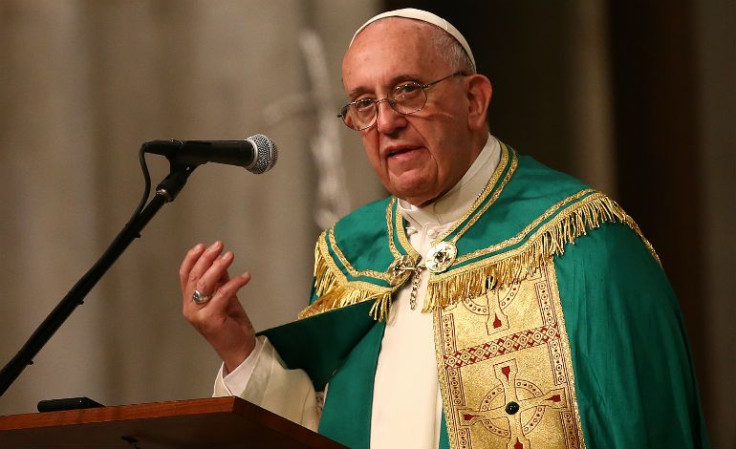 In the midst of his historic visit to the U.S., Pope Francis will soon release a music album delivering messages of faith, unity and hope in four different languages. We're not making this up, the LP is even approved by The Vatican.
The production, titled "Wake Up!," consists of 11 prog-rock-infused tracks featuring some of the Pontiff's most sacred hymns and excerpts of his moving speeches in either Italian, English, Spanish or Portuguese. The tracks are paired with different musical arrangements, including everything from heavy rock to soothing pop rhythms.
In "Wake Up!," the Argentine-born Pope addresses many issues such as peace, poverty, environment and dignity. The album, which is in collaboration with Believe Digital, will debut on November 27th.
Despite the two-months long wait, Rolling Stone premiered the first single titled "Wake Up! Go! Go! Forward!" "Wake up / Wake up. The Lord speaks of a responsibility that the Lord gives you / It is a duty to be vigilant / Not to allow the pressures, the temptations and the sins to dull our sensibility of the beauty of holiness," he says in the track that's accompanied by heavy guitar riffs and heart-pounding drum beats.
To listen to "Wake Up! Go! Go! Forward!" click here.
Track List:
1. "Annuntio Vobis Gadium Mangum"
2. "Salve Regina"
3. "Laudato Sie…"
4. "Poe Que' Sufren Los Ninos"
5. "Non Lasciatevi Rubare La Speranza!"
6. "La Iglesia No Puede Ser Una Ong!"
7. "Wake Up! Go! Go! Forward!"
8. "La Fa Es Entera, No Se Licua!"
9. "Pace! Fratelli!"
10. "Per La Famiglia"
11. "Fazei O Que Ele Vos Disser"
© 2023 Latin Times. All rights reserved. Do not reproduce without permission.