In an interview published on Tuesday, Pope Francis offered to go to Russia to meet with Vladimir Putin in order to stop the war, whilst appearing to blame the NATO alliance and Western arms dealers for Russia's invasion of Ukraine.
Among the things that were said in Pope Francis' interview with Corriere Della Sera on Tuesday was the fact that he has been attempting to meet with Russian President Putin for months now regarding the war on Ukraine, but has thus far received no response, according to al-Jazeera.
"Of course, it would be necessary for the leader of the Kremlin to make available some window of opportunity," he said. "But we still have not had a response and we are still pushing, even if I fear that Putin cannot and does not want to have this meeting at this moment."
Pope Francis also commented further about what he believes is the cause of the war, saying that Western governments and arms dealers are using the conflict between Ukraine and Russia to test out brand-new weapons for potential future wars, the Daily Beast reported.
"The clear thing is that weapons are being tested there. The Russians now know that tanks are of little use and are thinking of other things. This is why wars are waged: to test the weapons we have produced. Few people are fighting this trade, but more should be done," he said.
He also appeared to be blaming NATO and other Western countries for the conflict in Ukraine, conjecturing that Putin may have been goaded into invading Ukraine by "this barking of NATO at Russia's door."
"You cannot think that a free state can make war on another free state," he said. "In Ukraine, it seems that it was others who created the conflict. I am pessimistic but we must do everything possible to stop the war."
In spite of this belief, he appears to be sympathetic to the Ukrainians forced to fight on the ground, and he has openly rejected the reasonings given by the Russian Orthodox Church's Patriarch Kirill in justifying the war and invasion.
"With paper in hand, he read all of the justifications for the war," Pope Francis said. "I listened and told him: 'I don't understand any of this. Brother, we are not clerics of the state, we cannot use language of politics, but that of Jesus … For this we need to find the paths of peace, to stop the firing of arms.'"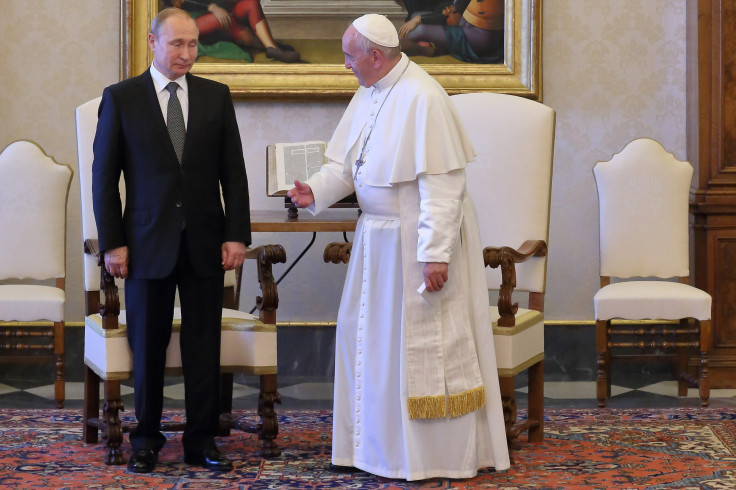 © 2023 Latin Times. All rights reserved. Do not reproduce without permission.