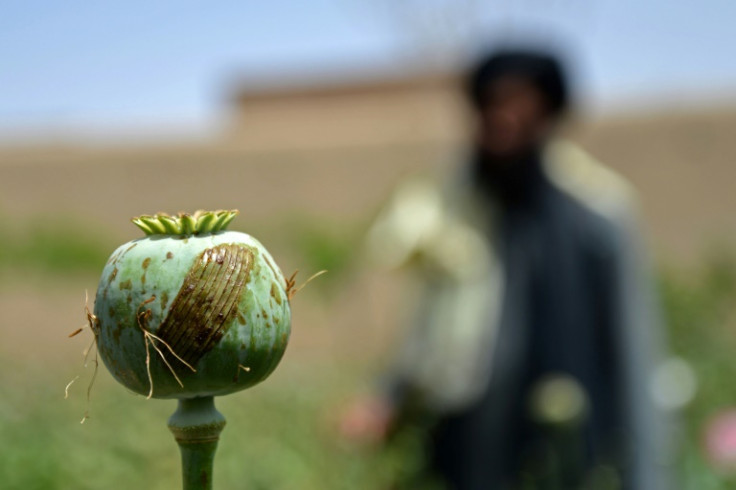 Poppy cultivation and opium production have plunged 95 percent in Afghanistan since Taliban authorities banned the crop, according to a UN report published Sunday.
Since returning to power in 2021, Taliban authorities have vowed to end illegal drug production in Afghanistan and in April 2022 banned the cultivation of the poppy plant, from which opium and heroin are made.
The report by the United Nations Office on Drugs and Crime (UNODC) found that poppy cultivation has collapsed by an estimated 95 percent -- from 233,000 hectares (575,755 acres) at the end of 2022 to 10,800 in 2023.
Opium production has followed suit, plummeting from 6,200 tons to 333 tons in 2023.
This year's estimated harvest amounts to 24-38 tons of exportable heroin, compared with 350-580 tons last year.
The UNODC warned of potential "humanitarian consequences for many vulnerable rural communities" due to the sudden contraction of Afghanistan's opium economy, as growers have had to turn to far less lucrative alternative crops.
Farmers' incomes, estimated at $1.36 billion in 2022, have fallen by 92 percent to $110 million this year, according to the UNODC, with the loss expected to impact the country's already struggling economy more broadly.
Last year, poppy crops accounted for almost a third by value of total agricultural production in Afghanistan, the world's leading producer.
"Today, Afghanistan's people need urgent humanitarian assistance... to absorb the shock of lost income and save lives," said UNODC Executive Director Ghada Waly in a statement.
"For all the other production -- cotton, wheat -- they need much more water," she said at a briefing on the report, while the country was experiencing "three years of consecutive draught".
The Afghan interior ministry's narcotics department said it agrees "to a certain extent" with the UNODC report's estimates of the area under poppy cultivation.
But it dismissed other elements of the report, such as those regarding opium production and socio-economic data, because they were not based on field-based surveys, relying instead on satellite images and previous years' data.
© 2023 Latin Times. All rights reserved. Do not reproduce without permission.