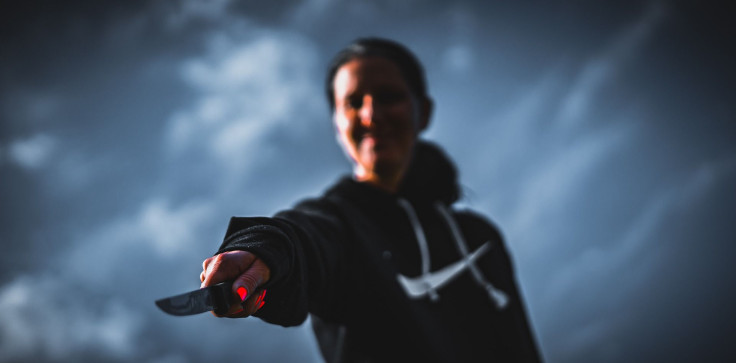 A pregnant woman fatally stabbed her boyfriend during an argument over reheating food in a microwave at her apartment in Austin, Chicago, Illinois.
The accused, identified as Keshia Golden, 33, who was eight months pregnant, was charged with one count of first-degree murder after she allegedly killed her 30-year-old boyfriend Calvin Sidney hours after her baby shower inside the home they shared in the 5100 block of West Augusta Boulevard on Oct. 22, WTTW reported.
After her baby shower on Oct. 22, when Golden and her relatives returned home, a verbal argument ensued between Golden and Sidney over who could reheat their food in a microwave first. During the argument, Golden knocked a plate of food out of Sidney's hand before he grabbed her and pushed her into a counter.
Seeing the couple fight, Sidney's uncle separated Sidney from Golden, and Sidney went to a bedroom. However, Golden allegedly went to that room multiple times to try and continue their argument.
She then grabbed a knife from the kitchen and walked back to the bedroom again. Even though Sidney's uncle tried to stop her from going any further, she allegedly lunged around him and stabbed the victim once in his thigh, hitting his femoral artery, ABC Chicago reported.
After stabbing Sidney, Golden then allegedly dropped the knife and fled the scene. Sidney was immediately taken to a local hospital Mount Sinai Hospital where he died.
Witnesses in the home called the police officers, informed them about the incident, and identified Golden as the person who stabbed the victim. Golden returned to the home not knowing Sidney was dead and was arrested by officers at the scene. When questioned, Golden admitted to stabbing the man after their previous altercation had ended.
Golden and the victim reportedly had a history of domestic violence, with five separate police reports filed between them from July to September. Out of the five cases, four of those cases involved allegations of violence committed by the victim against Golden, including accusations that he'd slapped, choked, punched, and pushed Golden.
In the fifth case in late August, Golden allegedly stabbed the man in his neck. Even though he was hospitalized, he declined to press charges.
Prosecutors sought to have Golden held without bail during Tuesday's hearing. However, a judge refused to do so because Golden was not present for the hearing.
"It was just toxic with those two," said Golden's mother, Tarsha Ellis. "But they loved each other. If he could raise up right now, they wouldn't have no case because he would never want charges against her."
Golden spent four days at the hospital getting treatment for injuries suffered in the struggle with Sidney. She is being held at Cermak Hospital inside the Cook County Jail complex.
© 2023 Latin Times. All rights reserved. Do not reproduce without permission.