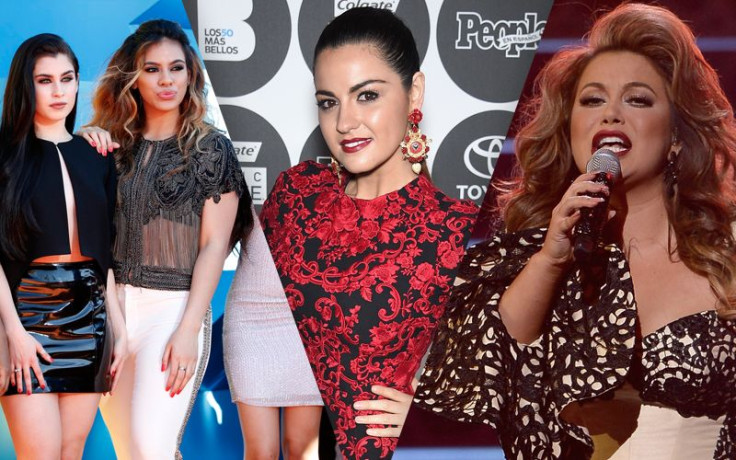 The summer is well underway and Premios Juventud 2015 is here to sizzle Univision's summer. Organizers of the smashing event have announced the first wave of performers of the award show that includes the appearance of Fifth Harmony. The band formed during the second season of "The X Factor USA" will sing their smash hit "Worth It," that will surely make the crowd sing and dance to their tune. Back for a second year in a row is Chiquis Rivera, with her new single "Completamente," which we hope "completely" erases the horrible experience her performance was last year. The star of "Antes Muerta Que Lichita," Maite Perroni, is also set to perform the theme song to "La Gata."
Pitbull couldn't not be absent from this big party and will be joined by Wisin and Mohombi with their new track, "Baddest Girl In Town." One of the most nominated acts of the night is Luis Coronel that will take the stage and add a touch of romance with "Cuando La Miro." Other performances of the night include Chino y Nacho and Nicky Jam. The event will be one of the biggest of the year and fans have been voting online to determine their favorites in a variety of categories. Premios Juventud will air live on the Hispanic network starting off at 7pm ET/PT with all the arrivals and special performances followed by the main event at 8pm ET/PT. Social networks are going to be on fire and we can't wait for all the interactivity set for PJ.
Categories for the award show are in fields like telenovelas, sports, music, film and pop culture. "Mi Protagonista Favorita" honors the best female lead actress where Maite Perroni, Marjorie De Sousa, Paulina Goto, Silvia Navarro and Zuria Vega are nominated. In the "Deportista De Alto Voltaje" category the nominees are: Cristiano Ronaldo, James Rodriguez, "Chicharito" Hernández, "Memo" Ochoa and Lionel Messi. As "Voz Del Momento" the following are nominated: Ariel Camacho y Los Plebes del Rancho, Larry Hernández, Luis Coronel, Prince Royce and Romeo Santos. In the Favorite Movie category the following will compete for the award: "Addicted," "A La Mala," "McFarland, USA," "Spare Parts" and "The Boy Next Door."
© 2023 Latin Times. All rights reserved. Do not reproduce without permission.