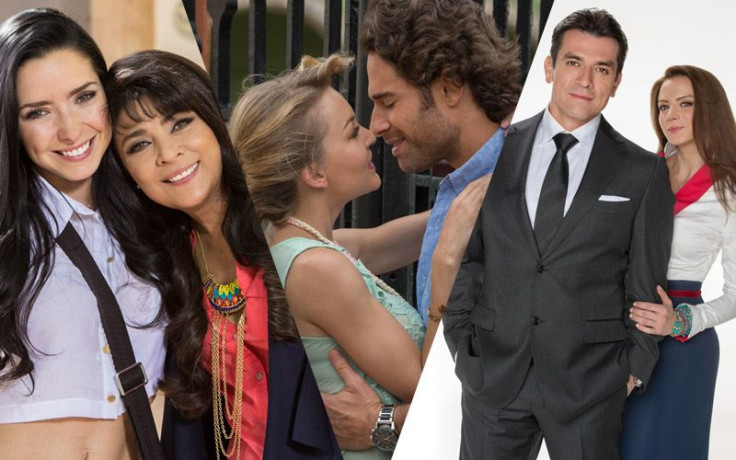 Televisa telenovelas that air stateside on Univision are some of the most succesful primetime programs in the U.S. These soaps have allowed the Spanish-language network to outrank the anglo broadcast networks on many nights. Although they are heavily criticezed for not being transparent, Premios TVyNovelas 2015 will be one of the biggest nights of awards this year. Our favorite telenovela stars will wear their most glamorous outfits and sparkle just like the stars up in the universe. The dynamics of the awards show has changed over the years and this year it will follow the pattern that we've seen in the last couple of editions. Only the soaps that have ended in Mexico are eligible to be nominated for an award. A panel of experts will vote for their winners during the live broadcast that includes reporters, telenovela producers, telenovela writers and personalities from the entertainment industry.
Premios TVyNovelas started off by readers of the magazing voting for their favorites. In the main panel, they usually include two readers to balance out the judges. Fans of the shows are left out as they won't get to cast their vote for the winners. The organizers have set up a different award that is called "Favoritos Del Público" ("Audience Favorites"), where social media is used to vote for their winners. These accolades are awarded to their winners a night prior to the main gala. Ironically, the awards that fans vote for is not broadcasted on television and fans will not get to see their winners take the accolade. Premios TVyNovelas 2015 will air in Mexico in March. Take a look at which telenovelas are nominated and the categories for the award show.
TELENOVELAS ELIGIBLE
"El Color De La Pasión" (Roberto Gómez Fernández)
"La Gata" (Nathalie Lartilleux)
"Lo Que La Vida Me Robó" (Angelli Nesma)
"Por Siempre Mi Amor" (Ignacio Sada)
"Que Pobres Tan Ricos" (Rosy Ocampo)
"Quiero Amarte" (Carlos Moreno)
"Mi Corazón Es Tuyo" (Juan Osorio)
"Yo No Creo En Los Hombres" (Giselle Gonzalez)
"La Malquerida" (José Alberto Castro)
CATEGORIES
Best Telenovela
Best Lead Actress
Best Lead Actor
Best Female Villain
Best Male Villain
Best Legendary Actress
Best Legendary Actor
Best Co-Starring Actress
Best Co-Starring Actor
Best Young Actress
Best Young Actor
Best Supporting Actress
Best Supporting Actor
Best Theme Song
Best Original Script Or Adaptation
Best Director
Best Variety Show
Best TV Show
Best Game Show
Best Entertainment Show
Best Cable Show
Best TV Especial
"FAVORITOS DEL PÚBLICO" CATEGORIES
#BesoFavorito (Favorite Kiss)
#CachetadaFavorita (Favorita Slap)
#VillanoFavorito (Favorite Male Villain)
#VillanaFavorita (Favorite Female Villain)
#ElMasGuapo (The Hottest Guy)
#LaMasGuapa (The Hottest Girl)
#FinalFavorito (Favorite Finale)
#ParejaFavorita (Favorite Couple)
#SonrisaFavorita (Favorite Smile)
© 2023 Latin Times. All rights reserved. Do not reproduce without permission.