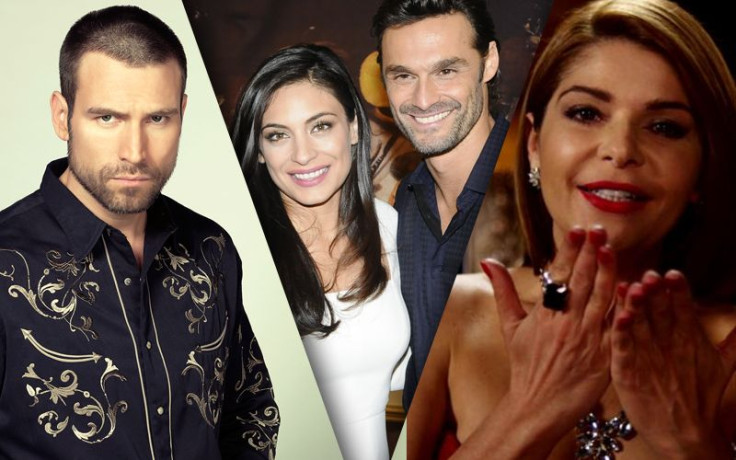 We love and we live telenovelas in the Hispanic community. All of the major Spanish-language networks devote their primetime schedule to these dramas that we watch every single day. Sure it's the same story every time, but they are so magical and can be so exciting that we get trapped by them. In 2014, Angelique Boyer and Sebastián Rulli made us root for their love on "Lo Que La Vida Me Robó," Victoria Ruffo, Ariadne Diaz and Christian Meier were trapped in a love triangle on "La Malquerida" and we were charmed by Silvia Navarro and Jorge Salinas on "Mi Corazón Es Tuyo." In 2015, Univision, Telemundo and MundoFOX are already preparing their new telenovelas that will surely enthrall us as remakes of "La Mentira" and "La Madrastra" are on their way.
Telemundo loves their "narco-novelas" and the new year will not be different as their schedule will be full of these series. We don't particularly love this genre, but we do like that they are action-packed and run shorter than normal novelas. Kate del Castillo will make her triumphant return to the network with "Dueños Del Paraiso" after starring in "La Reina Del Sur." This new series will have her back in a mafia war, but this time set in Miami and set in the 80s. The co-production with Chile's TVN has been shooting for months now and will premiere on January 13. The network has also been shooting the third season of "El Señor De Los Cielos." The cast has been teasing its return with Rafael Amaya's Aurelio Casillas back to regain his territory and Fernanda Castillo's Mónica Robles getting in on the action. This season will be a lot different as we are losing many actors that were there since the beginning, particularly Raúl Mendez that played "Chacorta." The actor failed to reach an agreement with Telemundo and will not be in the series any longer.
Univision will start the new year with the world premier of "Que Te Perdone Dios." The remake of "Abrázame Muy Fuerte" has Zuria Vega ("Un Refugio Para El Amor") and Mark Tacher ("Que Pobres Tan Ricos") in the roles previously done by Aracely Arambula and Fernando Colunga. This new version is from the same creators of "Lo Que La Vida Me Robó" and "Abismo De Pasión." Also set to star are Rebecca Jones, Sergio Goyri and Sabine Moussier in this telenovela that premieres on Januar 19 at 10pm ET/PT. Itatí Cantoral will return to Televisa after starring in "Hasta Que El Dinero Nos Separe." This time the actress will star in an Emilio Larrosa production opposite Eduardo Yañez ("Destilando Amor") and Ernesto Laguardia. The remake of "Somos Los Carmona" is tentatively titled "Amores Con Trampa" and is set to replace "Mi Corazón Es Tuyo." Who doesn't remember "La Mentira" with Kate del Castillo and Guy Ecker? One of the most successful Univision telenovelas that aired at the end of the millennium is back with a new cast. Ana Brenda Contreras ("Corazón Indomable") and Iván Sánchez ("La Tempestad") will star in this Salvador Mejía production tentatively titled "Quiero Odiarte, Pero Te Amo" that is set to air after the "Hasta El Fin Del Mundo" finale.
Televisa is also preparing a telenovela titled "La Vecina" by the same producers of "De Que Te Quiero, Te Quiero." The soap is set to star Esmeralda Pimentel and Juan Diego Covarrubias. "Amores De Barrio" is another production that is cooking up by Roberto Hernández. The producer of "Que Pobres Tan Ricos" and "Por Ella Soy Eva" is casting a telenovela titled "Más Canija Que Ninguna." So far Chantal Andere and Sylvia Pasquel have been cast, but no lead actors have been announced. Other Televisa telenovelas in pre-production are a remake of "Simplemente María" and "Cuna De Lobos." Earlier we mentioned Itatí Cantoral returning to Televisa in a new production, but in 2015 MundoFOX will air a telenovela she starred in that was produced in Colombia. "¿Quién Mató a Patricia Soler?" is a remake of "La Madrastra" that has finished recording and will premiere stateside in the new year. For those Soraya Montenegro fans, Cantoral will possibly be on two networks at the same time. What telenovela are you most excited to watching in 2015?
© 2023 Latin Times. All rights reserved. Do not reproduce without permission.