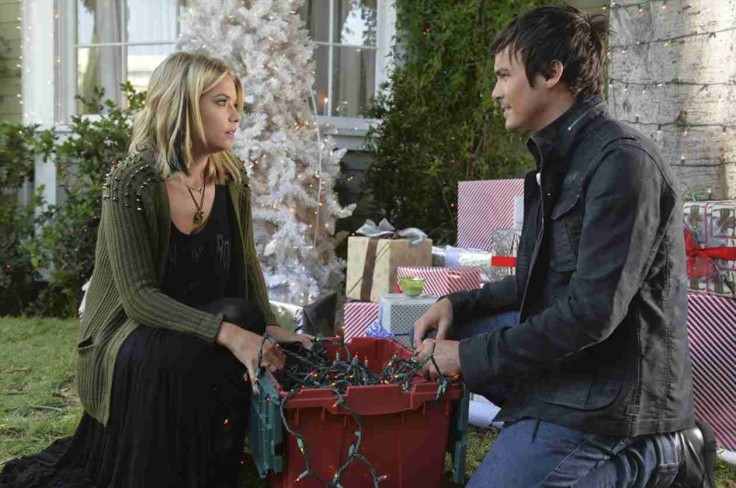 Hanna Marin has had a tough time in Season 5, but after the release of the promo video for the Season 5 summer finale, fans are wondering if things are only going to get worse. The video features a sinister threat, in the beginning of the video a hashtag flashes across that screen indicating that this finale episode will be "fatal." Following the revealing hashtag, the promo poses one question, "One Less LIAR?" While it seems unlikely that the series would actually kill off one of the 4 major characters, why ask the question unless a death is on the horizon? So if one of the Liars is going to get the axe, our guess is that it is Hanna Marin.
While it would genuinely break fans hearts to see Hanna leave Rosewood, she may the Liars with the most to lose. Hanna has been in a serious tail span this season, and while her and Caleb both made personal and physical strides in the last episode, all of her demons have not been exercised. One run won't get rid of Hanna's surmounting anxiety or her difficult relationship with Alison. It seemed like her mom seemed to set her drinking straight, after inadvertently discovering her daughter's flask, Ashley gave her one piece of advice. She warned that Hanna may want to stop drinking, just in case, "A" strikes again, but this time, not the in the form of Noel Kahn.
With Alison back, Hanna's story line has definitely decreased. The former best friends seemingly played similar roles in the start of the series, with Hanna claiming the Rosewood throne that sat vacant after Alison's sudden departure. However, now, with Alison back in Rosewood, and Hanna's distance from not only her but the other Liars, is Hanna being phased out? Possibly. Her and Caleb's reunion in the last episode does show some progress but Alison's reported chemistry with Caleb has not yet occurred, and that could once again drive these two apart.
A major character death would take "Pretty Little Liars" from a teen series into a bon-a-fide mystery thriller. The series just celebrated it's 100th episode, and was recently renewed by ABC Family for both Season 6 and 7, so in order to keep fans intrigued the series will have to under go a change. To keep the series unpredictable, character deaths and introduction are a major game changer. In addition to the promo video teasing a Lair death, the series has had a lot of character deaths, never major but nonetheless important characters. Hanna Marin's death in the Season 5 summer finale could be the first major character death, thus causing a complete series overhaul for the last two seasons.
Last but certainly not least; Ashley Benson who portrays Hanna on "Pretty Little Liars" has become a serious star in the past few years. With her movie résumé growing, and her recent casting in "Pixels" Benson may have to leave the small screen behind to discover even more opportunities on the silver screen.
© 2023 Latin Times. All rights reserved. Do not reproduce without permission.