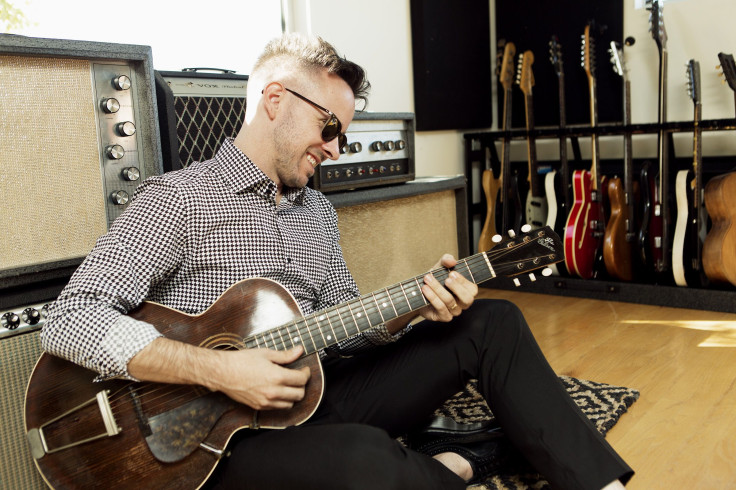 With hits such as "Talk Dirty" by Jason DeRulo, "Burnin' Up" by Jessie J, "Emergency" by Icona Pop, "Bo$$" by Fifth Harmony, "Fireball" by Pitbull, and the Grammy-Nominated album "Amanecer" by Bomba Estéreo, Ricky Reed has become one of the go-to songwriters and producers in the music industry over the past two years.
Reed's versatility and desire to do things that are out of his element have allowed him to go beyond the pop and urban music worlds, and venture into Colombian electro-folk, Afro-Cuban and Latin sounds, and even Country music. The Bay Area native, who is not only a producer but also has his own band called Wallpaper, has previously stated that he "doesn't need to try to be a rock star," and he "can just make music that is rad, release it, and let someone else be the rock star."
Latin Times had the chance to chat with Ricky Reed on Thursday and he shared with us a little bit of where his vision comes from, his favorite artists, his opinion on Latin music and culture, future projects, and a word of advice for those who want to try to make it in the music business. Scroll down to read the full interview.
Latin Times: For those who don't know anything about the music business, how would you describe what a music producer does?
Ricky Reed: "It's weird, there's a lot of different aspects to it. I guess in the traditional sense, you know, a music producer was responsible for putting everything together about a recording. He would like, call up a bunch of jazz musicians and schedule studio time and arrange on the phone, and do all that. But you know, that was back in the day. And now, it can be anything…from somebody who makes beats, somebody who, you know, goes in with a rock band and says 'cut the bridge out' and make a guitar sound like this, etcetera, etcetera. It really is the person who hears the song and says, 'How do we make this as good as it can be?' 'How do we keep all the magic in it?' and get it to the public without losing any of that magic."
LT: Who or what are some of your musical inspirations?
RR: "It's interesting, I mean like, I love a lot of different kinds of music just like a lot of people. I grew up playing in punk bands but also in the Bay Area, when Bay Area rap was kinda taking off. So, what sort of makes me tick in the studio musically is anything that has that spontaneity, anything that's genuine, has like a level of sincerity to it, of truthfulness, and I feel like the average person can hear when a record is dishonest. Even if they don't know how to put that into words, or understand why they are not connecting with it. I think that that is something that everybody can hear, when songwriters make something that is not inspired."
LT: Who has been your favorite record artist to work with, and why?
RR: "Boy, that's so hard…I mean, I think in the spirit of where we are headed for this weekend I would probably say Bomba Estéreo was one of the most fun projects I've ever done. I met them as strangers backstage at Lollapalooza a couple of years ago, and they flew me down to Bogotá, Colombia and we started the album. We started as strangers, and by the end we were great friends. We still are great friends. We've all gone through a lot of life changes and seeing each other grow, and I think that projects where the human element is that strong would always be my favorite."

LT: You've also worked with Pitbull, how was that experience?
RR: "Oh man! He is the best! He is one of the kindest, and most gracious, and funniest dudes to work with, you know. Once you do one song with Pit, you will want to do so many more for him. After we did 'Fireball,' our first song together, he would text me, or email me every couple of days after the song came out, 'This is a big one, this is special. Thank you so much! Thank you for all your hard work. Thanks, again!' Like, he is just a great guy. Love him to death!"
LT: What artist would you like to work with in the future, and what artist who is no longer with us would you have loved to work with if you had the chance?
RR: "Uhm, boy…I used to have a lot of heroes that I looked up to that I would say 'I want to get in with this person, I want to get in with that person…' But the more I work with established legacy artists, the more I start to feel like I have so much fun with the freshmen class, if you will, the new people coming in with strange ideas and different perspectives, and different backgrounds from me. I think I'm most excited to work with the person I haven't met yet. I would say, for someone who's passed, I was big fan of Michael Jackson growing up. Some of the jazz musicians I would've love to be in the room with were Miles Davis, you know, the list goes on and on but we can start with those."
LT: What are some of the things you have yet to do? What's on your bucket list?
RR: "I would like to score a movie. I'd like to write a book. I'd like to just do things that are not what I do. Like, I wrote a children's book about an avocado. I'm still trying to get a publisher for it. So, I like doing weird stuff that's outside of my element. I'd like to hike in South America. I'd love to run a marathon in Big Sur. I want to travel to strange places and all that ends up coming back around to affect the creative process, which maybe deep down is why I want to do all these things."
LT: What other projects are you working on right now besides Meghan Trainor's album?
RR: "I'm working on that. I'm also producing the album for a band called Phantogram on Republic Records that is going to be really, really, a big deal. I don't know how else to put it. That album is going to bananas when we are done! And then, yeah, I have a couple of other low-key singles popping up here and there, but nothing that I can speak about on the phone."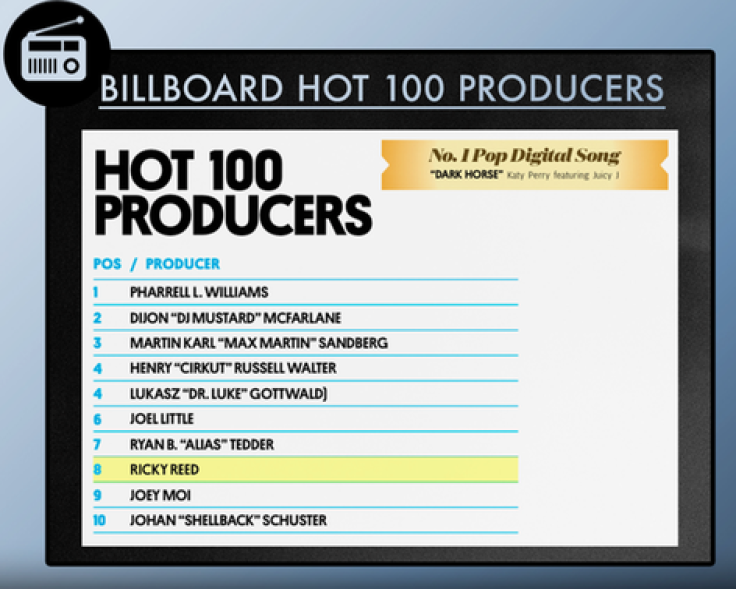 LT: Do you have any other Latino artists that you would want to work with?
RR: "I would love to work with…I mean, I love J Balvin. ChocQuibTown, they are awesome! I saw them at the Latin Grammys and they blew me away. I would love to work with…I think I may have some days with Enrique [Iglesias] coming up, I heard he is great to be around. And yeah, I mean after my work with Bomba and then going to the Latin Grammys, I felt so much music, and culture, and excitement. I got really excited about it so...trying to do a lot more in that world."
LT: You just mentioned you loved the culture and the excitement at the Latin Grammys, what was the experience that you had? Was it like a culture shock?
RR: "Yeah, I mean there was a lot more performance space. This felt more like it was a real live music experience. When people would perform, the crowd would stand up and dance. Also, a really fascinating difference between the Latin Grammys and the other Grammys is that at the Latin Grammys you get to see a lot of nationalism. Like, I'm sitting with Bomba Estéreo and any Colombian that would grace the stage they would go 'Heeey!' And I'd say, 'Do you know them?' And they'd say, 'No, but they're Colombian! Heeey!' And it was really cool, like, people were banded together in all kinds of different interesting ways. There was so much joy and halation, and good rhythm…it was beautiful."
LT: Staying on the Latino Culture subject, do you have any Latino performers that you like listening to?
RR: "Yeah…I mean honestly, some of the ones that I just mentioned. I felt very late to the party when I went to the Latin Grammys and J Balvin opened with 'Ginza,' and I think it was like a mash-up with Major Lazer. When I saw everyone going crazy to that song I was like, 'What is this?!' And I went and listened to 'Ginza' probably…About 10 times a day for about 3 weeks, and straight from that into the ChocQuibTown album. I listened to that album so much. But also, I grew up listening to Afro-Cuban music. I never really knew the names of the artists, or the albums, but lots of Afro-Cuban music was played in my friends' houses that I used to play music with when I was really young."
LT: How do you think the new technologies affect the music business?
RR: "I think just from a listener's stand point, like, with streaming services and this, and that...I listen to so much more music now than I was previously, and I don't know why people are talking about the sort of dead of the album, 'cause I listen to albums. I listen to new music. Like, I don't know. I think that it really just spreads more inspiration, and stuff like that."
LT: What would you say to newer generations that want to get into this business? What word of advice can you give them?
RR: "I think, like all things, music production, songwriting takes a lot of practice. You know, I had produced hundreds, and hundreds, and hundreds of songs before one of mine took off. A common thing is, people just getting into the game, so to speak, is people producing one song, your friends think it's hot, and then you spend two years trying to get somebody to hear your song, you know? And it's like, man don't be precious…like, make more, and more, and more. Make so much, challenge yourself and try to get to the point where…what's the metaphor, where you are sort of throwing the ball out in front of yourself. You are doing things that are beyond your comfort level, beyond your skill level, really experiment. I think that's where the magic is."
© 2023 Latin Times. All rights reserved. Do not reproduce without permission.