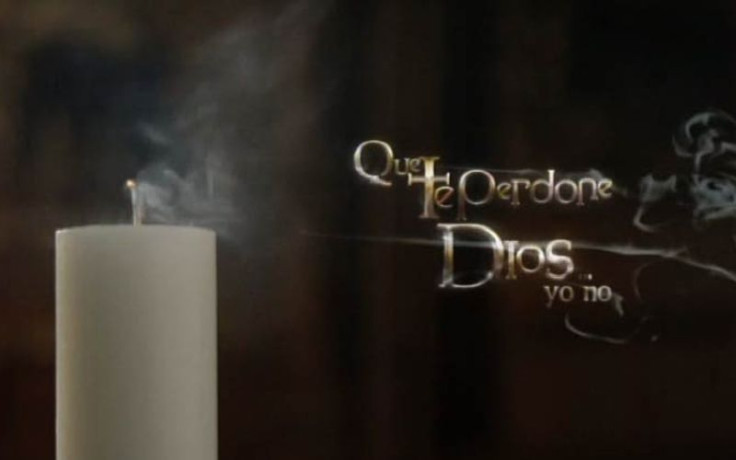 "Que Te Perdone Dios" is Univision's brand new telenovela slated to premiere in January. The soap is an exclusive and it would be a world premiere as the Mexican production has not aired south of the border. Although it's a never-before-seen melodrama, Hispanic audiences are familiar with the store as it is based on "Abrázame Muy Fuerte," which was led by Fernando Colunga, Aracely Arambula and Victoria Ruffo. In this new version, taking on those exact same roles are Mark Tacher, Zuria Vega and Rebecca Jones, respectively. Other cast members include Sabine Moussier, Sergio Goyri, Erik Del Castillo, Altair Jarabo, Brandon Peniche and Irán Castillo in a limited role. Univision has started promoting the new series with a teaser that has left us wanthing more. "There are sins and secrets that can't be confessed.....'Que Te Perdone Dios,'" says the announcer. Watch the teaser promo down below and tell us what you think!
"Abrázame Muy Fuerte" is the story of Cristina (Ruffo), a young girl whose sweet disposition endears her to everyone at "El Platanal," her father's beautiful hacienda. Her father, Don Severiano Alvarez, is a rugged, iron-willed rancher. His foreman, Diego Hernández, is a strong, handsome young man who is madly in love with Cristina, and she surrenders herself, body and soul, to his passion. Cristina admits to her father that she is pregnant with Diego's child. Severiano sends her to the city with her servant Raquela. There, her daughter is born. Federico Rivero (Evora), a cruel and greedy individual, takes advantage of this situation and arranges for the baby María del Carmen (Arámbula) to be brought to the hacienda as Raquela's daughter. In order to be close to her daughter, Cristina is forced to marry Federico. From this moment on, she will pass as María del Carmen's "Godmother." Federico causes an accident that leaves Cristina blind, and takes possession of her fortune.
© 2023 Latin Times. All rights reserved. Do not reproduce without permission.