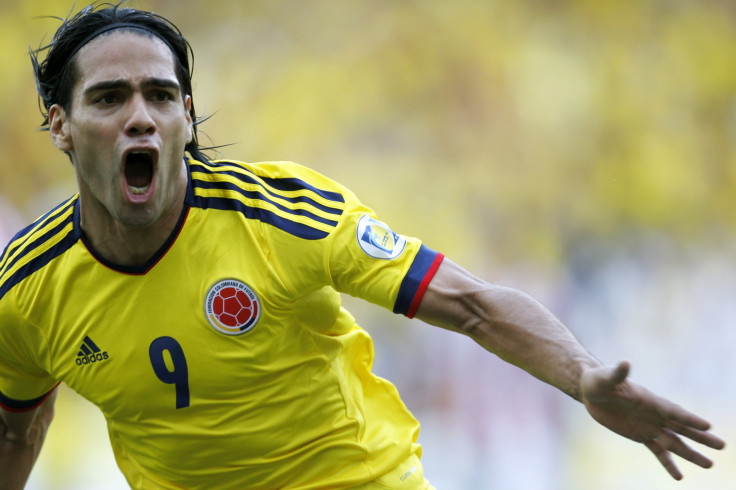 All is quite on the transfer front regarding Colombian striker Radamel Falcao. At least that's what Real Madrid wants you to think. According to multiple reports, Falcao moving to Real Madrid to join his Los Cafeteros teammate James Rodriguez is inevitable.
With a little over two weeks left before the summer transfer window closes, AS Monaco, Falcao's current team has informed other potential teams like Liverpool, that there's "no chance," they're landing the Colombian.
James Rodriguez has played a huge role in recruiting Falcao to Los Blancos, and according to those close to Falcao, he wants to make the move to the La Liga powerhouse. The reason the deal has not been completed yet is because Real Madrid needs to unload the contract of winger, Angel Di Maria.
Di Maria, who played for runner-up Argentina in last month's World Cup, did not play in the UEFA Super Cup Final on Tuesday and is rumored to be headed out of Madrid as soon as they can find a team that will take him. Thus far, Di Maria has been rumored to be heading toward Manchester United or Paris Saint-Germain, respectively. However, according to Di Maria's agent, Di Maria would rather play in Ligue 1 over the English Premier League.
Latin Times reported last month that it had seemed Di Maria was on the brink of moving to PSG, but all reports indicate that the deal has hit a stalwart and all negotiations at the moment have ceased. According to PSG president, Nasser al-Khelaifi, "He was too expensive. We stopped the discussions."
Madrid is now looking for clubs that would take Di Maria on a one or two year loan while Madrid can bring in a 28-year-old Falcao on a two year test run with the team.
If Real Madrid is able to add the Colombian star, than it certainly is another example of the rich getting richer. Madrid unveiled their new "fantastic four" in the final against Sevilla on Tuesday and currently poses the best and most expensive front line in all of soccer with Cristiano Ronaldo, Gareth Bale, Karim Benzema and James Rodriguez. Falcao would most likely take over Benzema's spot in the lineup or come off the bench as a super sub.
Real Madrid coach Carlo Ancelotti recently said that he was satisfied with his squad as it was and did not see the need to add another number 9 as he was happy with Benzema's performance. Benzema who shined at the World Cup for France, just extended his contract with Madrid to stay with the team through the 2019 season.
Despite the lack of need for Falcao, Madrid's president, Florentino Perez is reportedly intent on bringing Falcao into the fold. Spanish tabloids photographed Perez having dinner with Falcao's agent last week and wrote that Perez will not rest until the deal is done.
The Guardian is reporting that Monaco has told all clubs interested in Falcao not to bother as he is headed to Madrid. We're not clear on when the deal will be made official, but more than likely Real Madrid will blink first and lower their asking price for Angel Di Maria to PSG. Once PSG agrees to take Di Maria or if he is moved to United, than the transfer for Radamel Falcao will be complete, and Madrid's "fantastic four" will become the "fearsome five."
© 2023 Latin Times. All rights reserved. Do not reproduce without permission.