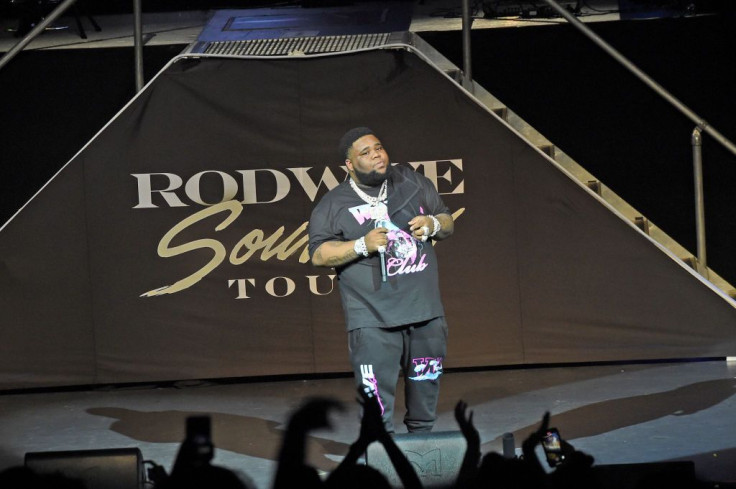 Florida rapper, Rod Wave was arrested and charged with battery by strangulation on Monday.
Born Rodarius Green, the rapper was arrested in St. Petersburg, Florida, confirmed police records from Pinellas County Sheriff's Office. Rod Wave remains in the custody of the St. Petersburg Police.
The rapper was booked into jail just after midnight on Monday. During the press time, a spokesperson for Wave had no comment on the arrest, and a spokesperson for the Pinellas County Sheriff's Department had no additional comment as well but confirmed that the rapper was booked on a warrant for domestic battery by strangulation that originated in the alleged incident.
The arrest comes after the "SoulFly" artist announced his fourth album, "Beautiful Mind," is finished. "I'm only here for a little longer and when I say that I mean as in Rod Wave," he said in a video uploaded to Instagram. "I'm only here for a little minute, man. I done gave y'all straight dope, straight crack. Ain't nobody's fu**ing with me with that pen. This sh** not really me, man. I'm not no people person, I'm not no center of attention a** ni***, I hate attention, man. I can't get on the internet without seeing my face or name."
"It's kind of like you sold your soul, bro, 'cause you say that's not you but for $300K it'll be me," he added.
In Dec. 2021, Wave had fans concerned after sharing a song titled "Nirvana," which features disturbing lyrics related to self-harm. He then deactivated his social media accounts and later apologized.
Wave also shared an Instagram story on Monday night that appeared to show the arrest, with photos of flashing police lights and the rapper "shaking his head." According to reports, Wave's 2021 Dodge Durango was pulled over "after a traffic infraction," which led to his arrest at 10:34 p.m. on an out-of-county warrant reportedly issued by Osceola County.
In April, Wave reportedly gave away $25,000 worth of gas in his hometown to help in the then record-high gas prices, with hundreds of drivers lining up at a local Sunoco for the giveaway.