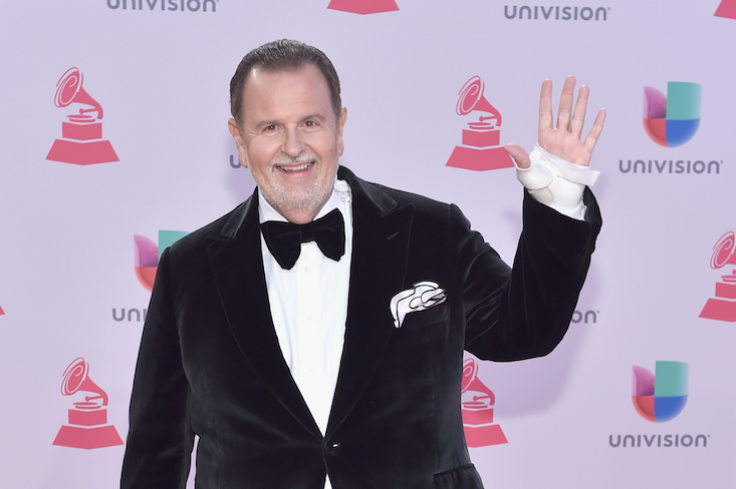 Raúl De Molina, better known in the entertainment world as "El Gordo," has been charming Latino audiences in the U.S., Latino America, and other countries around the globe for decades and he is not planning on stopping.
Latin Times had the chance to sit down with the hilarious TV host, journalist, photographer, traveller, and racecar aficionado on Saturday in New York City, where he talked about his impressive weight loss, his recent adventure through Europe and Asia, and the upcoming elections,
"I lost forty-eight pounds," De Molina said about taking on the "Slim Fast" challenge and making it work for the past few months. "And I mean, you look at me and I'm still heavy but I've lost almost fifty pounds. I brought my 'Slim Fast' shakes, a lot of times I would have them instead of lunch or breakfast," he continued.
He later confessed that when in Rome he did gain "two or three pounds" but was able to shake it all off during his trip to Positano, which he referred to as "one of the most beautiful places" he's ever been to, and where he had to "walk up and down the stairs and all that."
Throughout the interview, the 57-year-old entertainer revealed uproarious details about his family escapades in Europe last month, where he celebrated his birthday next to his wife Mily, and his daughter Mia.
He also pointed out that as a traveler enthusiast, going back to Jerusalem during Holy Week to shoot stories for Univision's "El Gordo y La Flaca" and having the chance to look at all its historic places through the eyes of an expert, was a life changing experience.
"It's one of the most important places in the world for Catholics, Jewish and Muslims, and they are all almost within a feet away from each other," he said. "To me it was an incredible experience because we've been to Israel during Easter Sunday before 'cause my wife wanted to go but to be able to do all this stories there, and be in all these places and we also had a Priest from Argentina that was living in Jerusalem explaining everything to me, because I needed him to do all these stories. This was like, to me, it was the most incredible experience that I've had in my life."
The Emmy-nominated journalist added that perhaps one of the most interesting experiences he had during his recent trip to Israel was visiting the Jordan River "Jesus" style.
"We went to the Jordan River, where Jesus was baptized, and they did the same to me. A Priest baptized me in the river for the show ["El Gordo y La Flaca"]," he shared.
He carried on by saying that the Religious journey was eye-opening for him, his family and the rest of the production, but also for the hundreds, thousands, million viewers out there watching the show during the Holidays.
"I learned a lot about this and I was able to present it to the people, and I think they really loved the stories that we did because I got very good feedback on social media," he told Latin Times. "People were saying, 'thank you for showing me something that you guys have never done before and I will not be able to travel to Israel but watching these stories I can learn about it.' And people were extremely happy about that."
Even though Raúl avoids getting into political subjects at all costs, later in the chat he disclosed he was attending Hillary Clinton's rally in Upper Manhattan and the Bronx on Sunday afternoon, and sent an important message to the Latino Community in the country.
"I really think that what's going on in this Presidential campaign is incredible, and I never thought that this would be happening in the United States, especially everything that's going on with the Hispanic community," he confessed.
He sustained, "I think it's important to tell the Latino community, and the people that watch my show, that is important to go out there and vote because a lot of people that are U.S. citizens, may not even be registered, or may not go to vote. And I want to tell them how important is for them to go out and vote in the upcoming elections because if there's one election that is important for the Latino community, it's this one."
Finally, we asked Raúl if he has ever been star struck by anyone in his many years interviewing some of the biggest celebrities in the industry.
"Yes," immediately responded his wife Mily, who was sitting next to him. "Emerson Fittipaldi, a very famous Brazilian race car driver."
"Mily, the interview is with me, not with you," Raúl joked. "But yes, she is right. We were having lunch at a place in Key Biscayne. And Emerson Fittipaldi is a Brazilian Formula 1 star that won the World Driver's Championship a lot of years ago, in the 1970s. And he was sitting next to me at a table and I wanted to go say hello because when I was a little kid growing up in Madrid, even though I'm Cuban I lived in Spain since I was 10 years old until I was almost 16, I went to see him when he won one of his first races and then he became the world champion. So, I went and got up and I finally said, 'I was at El Jarama when you won one of your first races and I'm a big fan of Formula 1, and a big fan of yours.' He was very nice."
© 2023 Latin Times. All rights reserved. Do not reproduce without permission.