The long wait is finally over. After a four-year hiatus, "Re:Zero" Season 2 has finally been announced.
"Re:Zero -Starting Life in Another World" Season 1 first aired on April 4, 2016, and concluded on September 19, 2016, after airing 25 episodes. It quickly became a hit that it spawned a prequel movie titled "Re:Zero: Starting Life in Another World – Frozen Bonds" which was released on November 8, 2019, TheCinemaholic reported.
"Re:Zero" Season 2 Release Date
Given the popularity of the anime series, fans believe that it's only a matter of time before a second season. They were indeed right as the anime's second season has already been officially announced.
The "Re:Zero" Season 2 release date will fall sometime in April 2020 but a specific date is yet to be announced. While details are not yet available, it is believed that the second season will follow the first season's 25-episode length.
"Re:Zero" Season 2 Production Details
Fans are assured of the same top-notch storytelling and animation they enjoyed in the first season. Masaharu Watanabe will be back at the helm once more and will be directing "Re:Zero" Season 2.
The animation will be done by White Fox Studio, the same animation studio that brought to life the anime's first season. The studio is well-established in the anime world as it has also worked on other high-profile projects such as "Steins; Gate" and "Goblin Slayer."
Meanwhile, Masahiro Yokotani is back once more as the second season's script writer. Kenichiro Suehiro will also resume his role as the composer of the "Re:Zero" Season 2 music.
The upcoming anime will have "Realize" as its opening song. The song will be performed by Konomi Suzuki, the same artist who performed the first season's intro. The ending song will be performed by the music artist Nonoc.
"Re:Zero" Season 2 Trailer
Meanwhile, a brief trailer for the upcoming season is already available online. It shows the protagonist Subaru Natsuki walking silently along a grassy path. Only the howl of the wind, as well as his footsteps, can be heard.
A few seconds into the trailer, it was revealed that there are plenty of dead bodies along the path. A small clearing can be seen at the end of the path where a table and some chairs were set.
A woman was sitting on one of the chairs enjoying what is probably a cup of tea, seemingly unmindful of the dead bodies lying around. Based on Subaru's very pissed expression, it is evident that he doesn't like the seated woman one tiny bit.
The woman turns around to face him with a smile. She is actually the series' villain Satella, also known as the "Jealous Witch."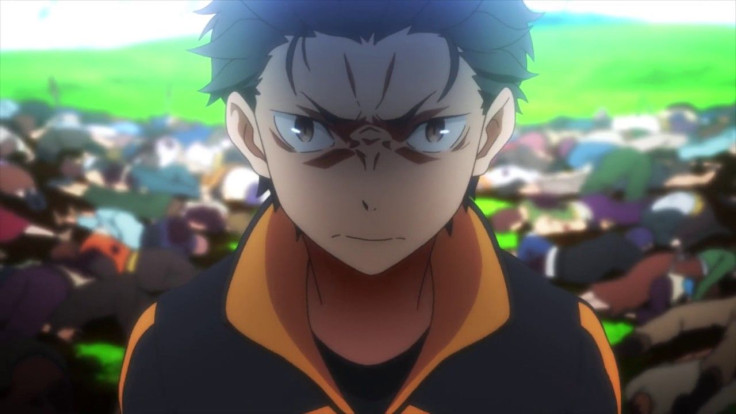 © 2023 Latin Times. All rights reserved. Do not reproduce without permission.