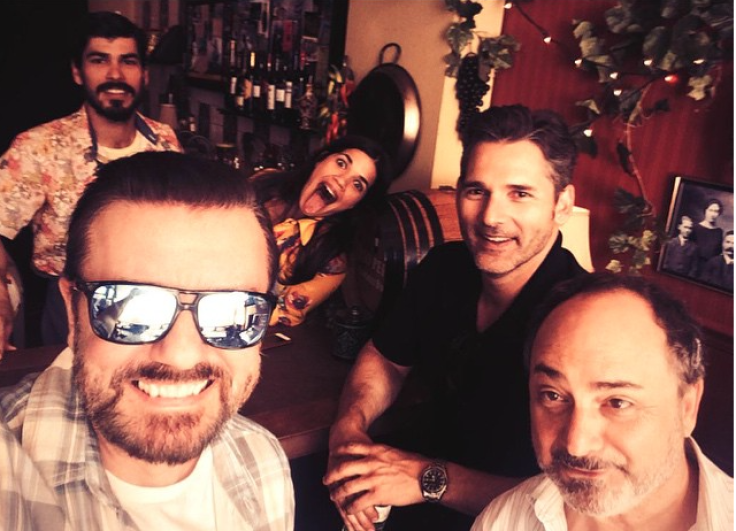 Ricky Gervais is bringing his peculiarly hilarious humor to Netflix with the film "Special Correspondents," starring himself and Eric Bana. The story follows a struggling New York radio journalist, played by Bana, who is faking war reports from the frontlines from a hiding spot in New York. In addition to writing, producing and directing the film, Gervais will play Bana's most-likely, useless assistant. Benjamin Bratt will play their arch-nemesis and although, there isn't much information about America Ferrera and Raúl Castillo's role, we do know they're having lots of fun on the set.
This marks another one of the streaming service's huge deals, after paying $12MM for Cary Fukunaga's African war drama "Beasts of No Nation," starring Idris Elba; acquiring worldwide rights for $17MM of "Jadotville" starring Jamie Dornan and closing a massive deal with Leonardo DiCaprio for multiple documentaries and docu-series, presumably touching on environmental issues. "Having shaken up the TV industry, Netflix is about to do the same to Hollywood. It's great to be part of the changing future. Ted Sarandos is the new Godfather of entertainment and he made me an offer I couldn't refuse," Gervais told Variety.
The co-production between Bron Studios and Unanimous Entertainment will not have a theatrical release, but is set to debut exclusively on Netflix in 2016, although a specific date hasn't been announced yet. Gervais posted a photo on Instagram saying, "America & Raul survive their first day on #SpecialCorrespondents," last week, and Castillo posted a photo of him and Ferrera saying, "Reposting this from Ricky's Twitter. Not a bad way to spend my work days. America is the real deal. Love that we get to do this together. Cheers!"
© 2023 Latin Times. All rights reserved. Do not reproduce without permission.