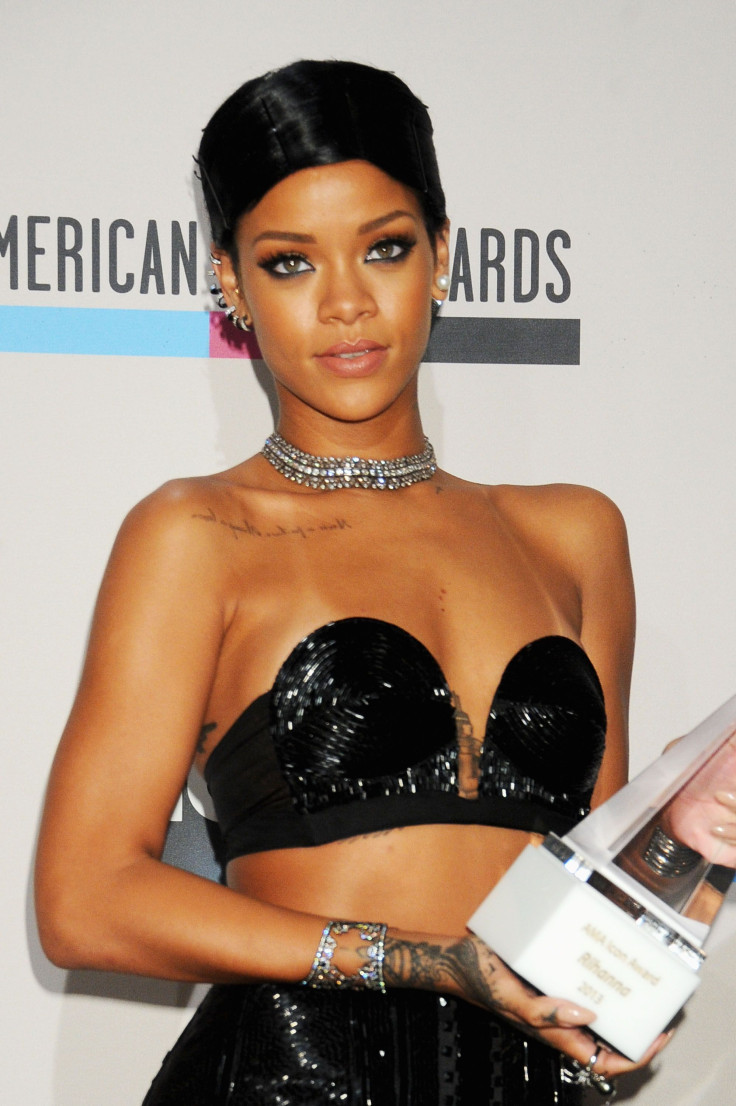 It's impossible not to talk about it. Last Sunday, as I was watching the Red Carpet for the American Music Awards I found myself confused, shocked, baffled, surprised, but at the same time inspired, empowered, and feeling more Dominican than ever. Yes, I'm talking about Rihanna's hairdo. It is very strange to see the famous "doobie" or "tubi" (pronounced "toobie") outside of a hair salon, and all of the sudden is out there, in a red carpet, in front of million viewers, paparazzis, and other celebrities. It took a first glance at Rihanna for my whole social media feed to go crazy with mixed feelings over her hairstyle.
Stylist Ted Gibson explained to NY Daily News that the wrap is popular among African-American and Latino women, but it's often reserved for the privacy of the beauty salon or one's home. "But Rihanna is all about breaking the rules!" Gibson said. "She took something that most women would never wear outside of their home and made it fashionable and chic!" He went on, "It's as if she said 'I'm Rihanna, I'm getting the ICON award, and I can do whatever I want!' Taylor Swift won a lot of awards last night, but we're not talking about her the next day. We're talking about Rihanna, and that's what makes her an icon."
Some people might be wondering why the big fuzz on Rihanna's hair. Let's start by saying that you would never catch a Latina, specifically a Dominican woman, wearing one in public. However, I feel it's appropriate to share some cultural facts before I go explaining what a "tubi" is. Latina women have a tendency of "producing" themselves before going out. That means that you would never see us looking like we need our fifth cup of coffee of the day because we like to take extra care and look our best no matter the circumstances. Makeup is a must. Concealer, mascara, sometimes fake lashes (we don't need a special event to rock them), lipstick, and a few other tricks to make our skin look flawless. Nails. Yes. We like to get our nails done every week because who would like to grab an ugly hand, right? Or showcase ugly feet. Ew!
And of course, hair. Hair salons are so popular among Latinas that you can find two or three on the same block. Going to the hair salon is like going to the spa. You got your girls taking care of you, updating you on the latest gossip and making sure you look like a movie star before going out to the streets. It's a practice that we usually repeat two to three times a week. In Latin America beauty is a must. And we don't need a crazy budget to look like a celebrity. Now, speaking of hair, Latinas are a mixed race. Dominicans, for example are a mix of Spanish, Natives and Africans. So hair type, texture, and color are very diverse.
Straight hair became very popular, since most of us have either curly or wavy hair, and rocking that "natural" look might not feel too attractive for us, or might come with taking extra care of it. Although don't get me wrong, there are some amazing curls in my island! (Shout out to my sister Amalia and my friend Ignaura who refuse to go to hair salons and still have celebrity-worthy curls!). Nevertheless, that extra time and effort you need to put to the curls might be avoided if you go to the hair salon, get your hair straightened with a hairdryer, not a straightening iron (sorry, American salons, that's just the way it's done) and put it up in a "tubi" to keep it fresh and looking like you came out of the salon every day.
So now, after the cultural lesson of the day, let me explain in detail what a "tubi" is. 1) "Doobie" or "Tubi" is a hairstyling technique often used in both African-American and Dominican based hair salons to add more body and smoothness to sleek hair, a 'doobie' is usually the last step in a hairstyle, or to secure hair during sleep so it looks salon-worthy every day. 2) You can either blow-dry your hair or roll damp hair with rollers and sit under a hooded dryer, and once your hair is dry, it is parted in the middle from the crown to the nape and then wrapped around the head in a circular motion. The wrap can then be secured with bobby pins. Normally the longer you keep in the doobie the more bounce and volume.
3) Going outside with a "doobie" is like submitting yourself to a world of shame. Women's beauty secrets are kept in the privacy of hair salons, and you wouldn't want your significant other to see you halfway through the beautification process. It's just unacceptable. So please, although Rihanna rocked the "doobie" (it pains me to admit it) please don't make it into a mainstream trend. Think of all the abuelas chasing their granddaughters with a "chancla" for appearing in public like that. Let's make abuelas happy and avoid them the distress. Gracias!
© 2023 Latin Times. All rights reserved. Do not reproduce without permission.