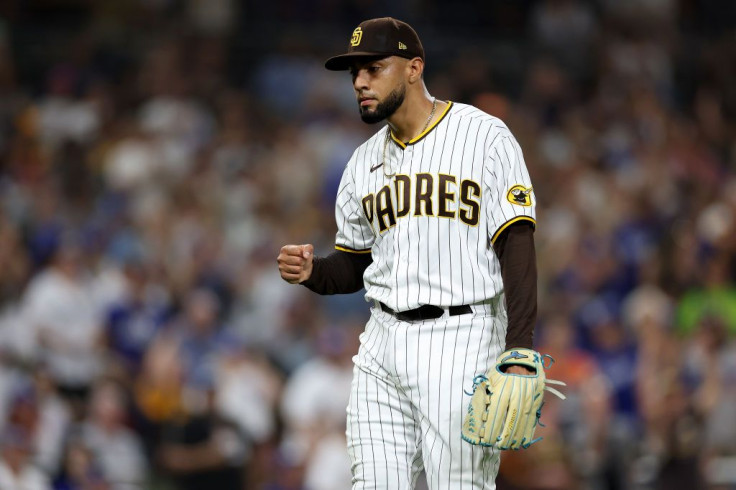 Pitcher Robert Suarez has emerged as one of the Padres' most important players this season. The 31-year-old rookie has become an essential part of their bullpen.
In the summer of 2015, Padres scouts heard of a Venezuelan pitcher who was throwing 98 mph in the Mexican League, for the Saraperos de Saltillo. Suarez, to that point, had never been signed by an MLB team. The problem was that Suarez was being offered $350,000 to pitch in Japan, which is much more than minor leaguers make.
Suarez had almost given up baseball completely. As a teenager, he didn't have much command or that same velocity he blows by hitters today. A future in baseball, in his mind, didn't seem realistic. He began to work odds-and-end jobs, at a supermarket and construction. He'd pitch just on weekends in independent leagues.
Suarez then decided to scrape together a year's earnings to give pitching a real shot in Mexico. This is where he was able to train and work on his pitching craft. He then bounced around Japan's minor leagues, getting a chance to start games until he had Tommy John surgery. He was receiving offers to come to the U.S. and pitch in the minor leagues, but Suarez wanted to avoid service time and arbitration.
He decided to make the leap to the MLB and signed with San Diego on a two-year deal that would guarantee him $11 million.
This season has seen him be essentially flawless at Petco Park, tossing 24.0 regular season innings with a 0.00 ERA. The home run he gave up in Game 2 against the Phillies was the first earned run he's ever given up at Petco. His regular season numbers were also flat-out impressive, striking out 61 batters in 47 innings and posting a 2.27 ERA.
Robert Suarez's journey to the NLCS has been an improbable one. His arm, clocked this season as firing a 101 mph fastball, has been a huge reason for the Padres' success and if they make it World Series, they'll need him to keep it up.
© 2023 Latin Times. All rights reserved. Do not reproduce without permission.