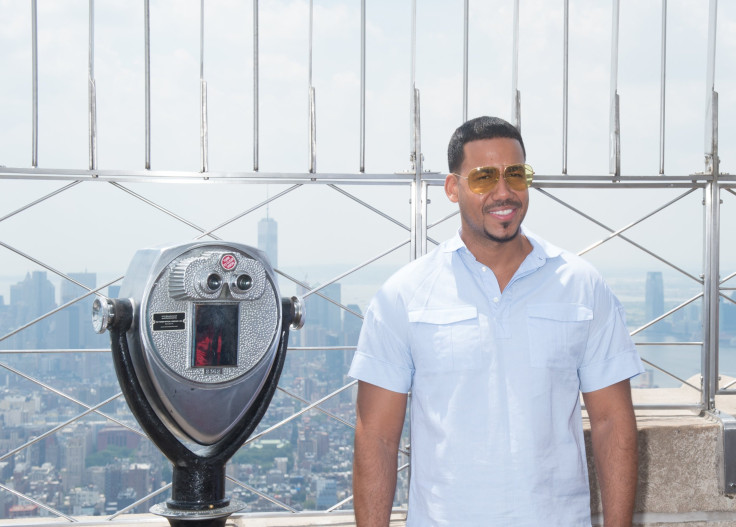 Soaring 1,454 feet above Midtown Manhattan (from base to antenna), the "World's Most Famous Building" met the "King of Bachata." The iconic Empire State Building in New York light up to the rhythm of Romeo Santos' new single. In celebration of the new release of the song "Carmin" featuring Latin global superstar Juan Luis Guerra, the Empire State Building was the scenario of an impressive music-to-light show.
"I am excited to launch my new album in a spectacular visual display with the world-renowned Empire State Building," said Romeo Santos. "This evening, iHeartMedia will treat my fans to an exclusive preview of my new single for the world to enjoy."
"I can't think of a better way to celebrate his new hit than a light show with one of New York's biggest radio stations, 103.5 KTU, at one of the world's most iconic landmarks," said Tom Poleman, Chief Programming Officer for iHeartMedia.
The music-to-light show will be available online hereand here.
Spanish Broadcasting System, Inc. also has teamed up with Santos to world premiere a one-of-a-kind, historic radio launch of Romeo's album, Golden. Beginning Friday, July 21, SBS will play the full album across its terrestrial radio stations, with an All-Day Album Roadblock, to millions of listeners nationwide on SBS's top rated Tropical and Urban stations with a record- breaking total audience spins.
The album will continue to play across SBS's Urban and Tropical formats until 12:01 a.m. ET July 22, featuring never-before-heard audio from Romeo Santos discussing the album as a guest DJ.
U.S. radio listeners can tune in to one of SBS's radio stations:
WSKQ-FM MEGA 97.9FM In New York
WPAT-FM Amor 93.1FM
WXDJ-FM EL NUEVO ZOL 106.7FM In Miami
KXOL- FM MEGA96.3FM In Los Angeles.
ESTEREOTEMPO 96.5FM WRXD / WIOB 97.5FM in Puerto Rico
The following SBS Radio stations will participate in the premiere of "Golden" every hour:
 SBS New York: Mega 97.9FM and 93.1FM Amor
 SBS Los Angeles: Mega 96.3FM
 SBS Miami: El Zol 106.7FM
 SBS Puerto Rico: Estereotempo 96.5FM WRXD / WIOB 97.5FM
"Romeo Santos fans couldn't be more excited about the release of 'Golden,' and we're incredibly thrilled that LaMusica's App partnership gives our subscribers early access to this long-awaited album," said Raul Alarcon, Chairman, President, CEO of SBS. "Together, SBS and LaMusica App are connecting people who are passionate about music with the world's most iconic artists through unique experiences like this – and there are many more to come."
"We have a long history of partnering with Romeo Santos in innovative ways over the years, and he was one of the artists to join our first-ever top concerts," said Jesus Salas EVP of Programming of SBS & Multiplatform Coordinator. "He's once again proved that he's a true innovator, and we are honored to partner with him on the historic launch of his new album in over three years. Our nationwide world premiere of Golden will reach millions of Romeo's fans across the country – while creating millions of new ones."
Chart topping, multiplatinum, award winning, songwriter and Latin Music Superstar, "The King of Bachata", Romeo Santos, has the most #1 HITS this decade by a Latin Artist. Among his many accolades, Santos has been named by ASCAP as "Songwriter of the Year" for five years in a row, and this year 2016 ASCAP named him "Singer/Song writer of the Year."
He has won Billboard Latin Music "Artist of the Year" for two years running. Romeo also has won for two years in a row "Latin Artist of the Year" at the Billboard Music Awards. The 5 x platinum "Formula, Vol. 1" includes five number one HITS and spent an astonishing 17 weeks at number one on the TOP Latin Albums charts. The follow-up album "Formula, Vol. 2", is certified DIAMOND.
It spent 10 weeks as #1 on the TOP Latin Album charts and was #1 on Billboard's "Top Latin Albums" for over 8 months. The album includes five #1 singles; the first single "Propuesta Indecente," as well as the second single "Odio" featuring Drake, both debuted at #1 and went on to spend over three months at #1.
Santos has collaborated with TOP artists including Usher, Lil Wayne, Pitbull, Drake, Nicki Minaj, Marc Anthony and Carlos Santana. The multifaceted artists also appeared in the blockbuster "Fast and Furious 7" alongside superstar Vin Diesel and recently lent his voice to one of the characters in the animated film "Angry Birds." THE KING made history as the first Latin Artist to perform at the New Yankee Stadium with two sold out shows with 50,000 people in attendance each night.
He is the #1 Urban-Pop Artist in Social Media with over 30 million fans. He now adds mogul to the list of accomplishments, being named CEO of Roc Nation Latin.
© 2023 Latin Times. All rights reserved. Do not reproduce without permission.