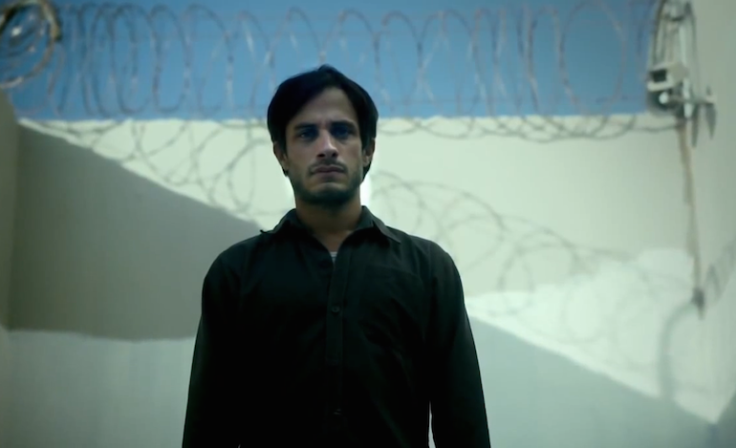 A first look at Jon Stewart's upcoming project "Rosewater" has been revealed. "The Daily Show" host temporarily left the show last summer to tell the story of Maziar Bahari who was imprisoned in Iran for about two months following his appearance on Stewart's show in 2009 where he talked about the country's elections.
Acclaimed Mexican actor Gael García Bernal will take on the lead role as Iranian-Canadian journalist Maziar Bahari. The film also stars actor Kim Bodnia of "The Bridge" as Rosewater, Bahari's interrogator whom he named after the scent the interrogator liked to wear, as well as Shohreh Aghdashloo, Golshifteh Farahani and Dimitri Leonidas.
In an interview with The Hollywood Reporter Stewart addressed why he chose to have a Mexican actor play the role of an Iranian journalist. Stewart said that he was having trouble finding someone "who was able to have that distance, who, within the horror of what was happening to them, maintained a certain light. And when Gael came in to read, it was kind of immediate." Check out the "Rosewater" trailer below:
This film is based on the best-selling memoir by Maziar Bahari titled "Then They Came for Me." "Rosewater" tells the story of Tehran-born Bahari, a journalist with Canadian citizenship. In June 2009, Bahari returned to Iran to interview Mir-Hossein Mousavi, who was the challenger to president Mahmoud Ahmadinejad. As Mousavi's supporters protested Ahmadinejad's victory declaration hours before the polls closed, Bahari endured personal risk by sending footage of the street riots to the BBC. Bahari was arrested by police, led by a man identifying himself as "Rosewater," who tortured and interrogated him over the next 118 days. With Bahari's wife leading an international campaign to have her husband freed, and media outlets keeping the story alive, Iranian authorities released Bahari on bail and the promise he would act as a spy for the government.
"Rosewater" will be screened during September's Toronto Film Festival, with a release date coming Nov. 7.
© 2023 Latin Times. All rights reserved. Do not reproduce without permission.