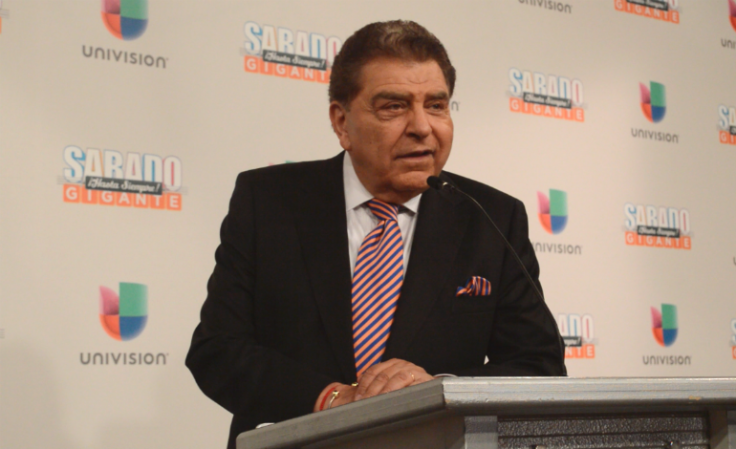 Saturday night was an emotional roller coaster for viewers at home, for the audience at the Univision studios and for press in the media room. September 19 marked the end of an era with the last airing of "Sábado Gigante" and it seriously gave everyone the feels.
From remembering old episodes to President Obama and First Lady Michelle Obama sending their kind message and from "La Cuatro" having a heartfelt moment with Don Francisco to Daddy Yankee performing live from New York's "Madison Square Garden," the "Sábado Gigante: Hasta Siempre" episode was definitely one for the books. We still can't get over the heartwarming finale, especially when the Chilean TV personality walked down the gold carpet and hopped on a bus ---letting the world know that he's closing a chapter which he embarked 53 years ago.
Following the last episode, Mario Kreutzberger headed backstage to talk to the press. Not only did we discover that Mr. Mario is a down-to-earth and funny human being, but we also found out that he loves to chit-chat! Check out everything he revealed backstage!
1) The gold carpet and leaving on a bus was Don Francisco's idea ---he admitted that 90 percent of his team did not like the idea.
2) However, since the studio was filled with 220 people who were either family members or special guests, he wanted the audience to be on the gold carpet.
3) According to Don Francisco, the audience is the base of "Sábado Gigante" ---if you recall, he spent more time in the audience than on stage.
4) As a sign of appreciation, Don Francisco gave everyone in the audience a Univision goodie bag.
5) Though he was very pleased with the finale, he stated that he wished he had the opportunity to interview Daddy Yankee live from MSG.
6) Every week, "Sábado Gigante" ranks in the top five national shows list.
7) Though he's very grateful with Chile's Canal 13 and Univision, Don Francisco is also thankful for Televisa, who allowed the show to air in Latin American countries.
8) When he first started working in the U.S., Don Francisco got fired in the first eight weeks.
9) He said he would love to continue working in talk show or documentary/reality shows.
10) Did you know that Don Francisco has had the same wallet for 59 years? Well, now you know!
11) He has giving out 2,516 cars throughout the running of the show ---but then he said he was kidding!
12) The first thing he bought with his first pay check was an electrical toy train for his then 1-year-old son.
13) Never in a million years did he imagine great support from national and international media
14) He says that the show will remain in the hearts of many people.
15) He also revealed that over 70 percent of the "Sábado Gigante" team, has been working with him for more than 25 years.
16) La Cuatro has been #TeamDonFrancisco for over 45 years!
17) The Sunday after the finale? Don Francisco is going to sleep all day!
© 2023 Latin Times. All rights reserved. Do not reproduce without permission.