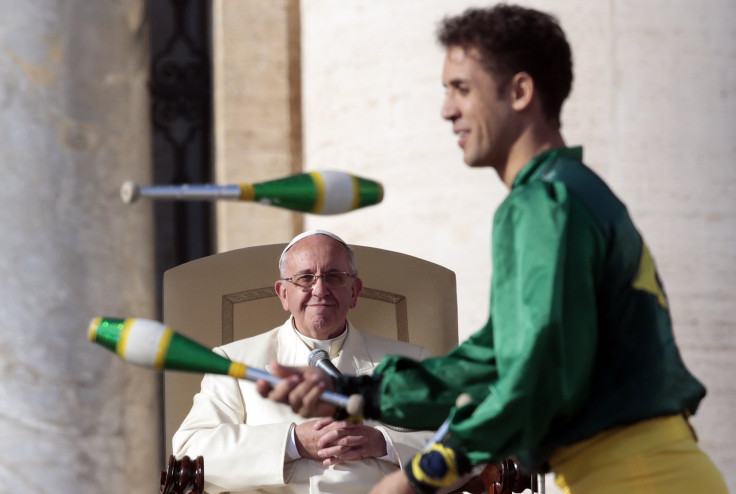 On Tuesday, millions of Catholics will celebrate Saint Patrick's Day, from Ireland, to America, to Argentina. The most serious and sincere are Catholics, with a whole lot of piggy-backing revelers who just like to drink and pinch each other. Popes don't march in St. Pattie's Day parades, nor are the known to chug Irish car bombs (those unfortunately named explosive shots dropped into pints of Guinness). In fact, the Pope doesn't have a habit of celebrating and specific saints' days. Yet Popes past and present have had a special relationship with St. Patrick's Day, the Saint Patrick's Cathedral in New York, and the legacy of Ireland's impoverished immigrant patron. But what does the Pope do, exactly?​
Tale #1: The Catholic Church On St. Patrick And Immigration
From Mexico to Mozambique, Catholics officials advocate for immigrant rights. Last year, Irish bishops issued a statement directly tying the struggle of migrants to the legacy of St. Patrick.
"As the plight of Patrick, himself a migrant, has been faced by many Irish people who have struggled to live and integrate into new cultures [and] we encourage all the faithful to pray for migrants at home and abroad as many face challenges arising from displacement and poverty."
Last year, Pope Francis sent a personal letter to AZ teens, thanking them for lobbying to protect migrants. he also called on European leaders to rectify a deteriorating human rights situation for migrants entering the continent, particularly from Africa. Specifically, he criticized the selfishness of European countries, many of whom have increased barriers against receiving migrants and refugees (often in violation of existing EU law).
"A change of attitude towards migrants and refugees is needed on the part of everyone, moving away from attitudes of defensiveness and fear, indifference and marginalization – all typical of a throwaway culture – towards attitudes based on a culture of encounter, the only culture capable of building a better, more just and fraternal world," said Francis last July, according to in Catholic Vote.
Tales #2, #3, & #4: What does the Pope Do On St. Patrick's Day? You Know, Popey Stuff
St. Patrick's Day is like any other day for the Pope. By looking palpal schedules from past March 17ths, you can get a pretty good idea of what the Pope does the rest of the year.
Offers Mass-Appeal: "It is not easy to trust in the mercy of God, because that is an incomprehensible abyss," said Pope Francis to a crowd of 150,00 people during Sunday Mass on March 17th, 2013.

Beautifies, Like A Boss: Like Oscar stars and the Academy, Saints like Patrick can't beautify themselves. On March 17th, 1996, Pope John Paul II beatified Daniel Comboni and Lubna Abdel Aziz in St. Peter's. Later recognized for performing an alleged miracle by curing a sick Muslim woman in Sudan, Aziz was made into a saint.

Get's His Threads Ruffled (by the Holy Spirit?): John Paul II made headlines in when a gust of wind flopped his frock during an outdoor service in 2004.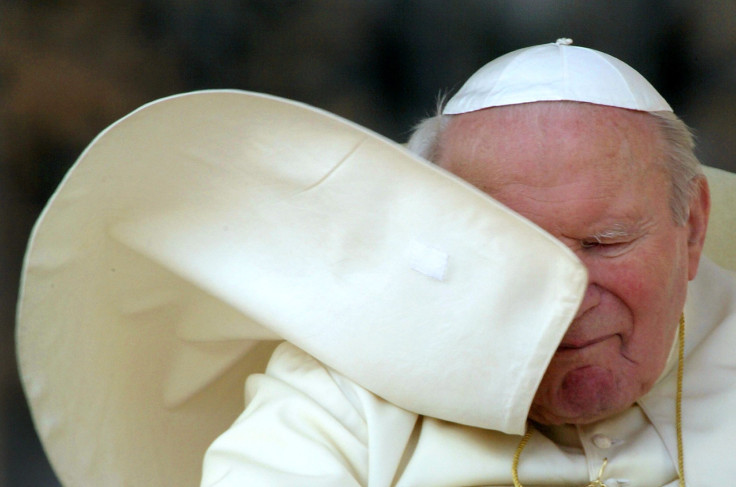 Tales #5 & #6: At St. Patrick's Cathedral, In New York City
Last time Pope Francis visited the Big Apple, he ticked off big Catholic donors by criticizing income inequality, according to the NY Daily News.
"Money must serve, not rule!" he exclaimed, describing what he called the "idolatry" of wealth. He also noted that "While the earnings of a minority are growing exponentially, so too is the gap separating the majority from the prosperity enjoyed by those happy few." Reportedly, he scared off donors who were going to contribute to the Cathedral's restoration.
Speaking of St. Patrick's and New York, its worth mentioning that this year's slightly less homophobic St. Patrick's Day Parade might have been influenced by Francis' slightly more compassionate attitude toward the LGBTQ community.
"I think we're seeing the Catholicism of Pope Francis come to the Archdiocese of New York," said J. Patrick Hornbeck, chairman of the theology department at Fordham University, in a HuffPo article. "Cardinal Dolan's statement is welcoming. He did not make this decision, but sees the parade as an opportunity for unity."
Tales #7 And #8: Drinking
We're pretty sure that no Pope has ever done green jello shots been staggering drunk wearing his white mitre (pope hat), but they do drink alcohol. Catholic priests take with a vow of chastity, but they get the greenlight for booze. It is like the opposite of being a Mormon priest. Along with above-average sacrament dispensation, that might help explain why Vatican City consumes more wine per capita than any other country. Is it just wine or do they sip some hops, too? They drink beer, and caffeine, too.
Retired German Pope Benedict was a beer connoisseur.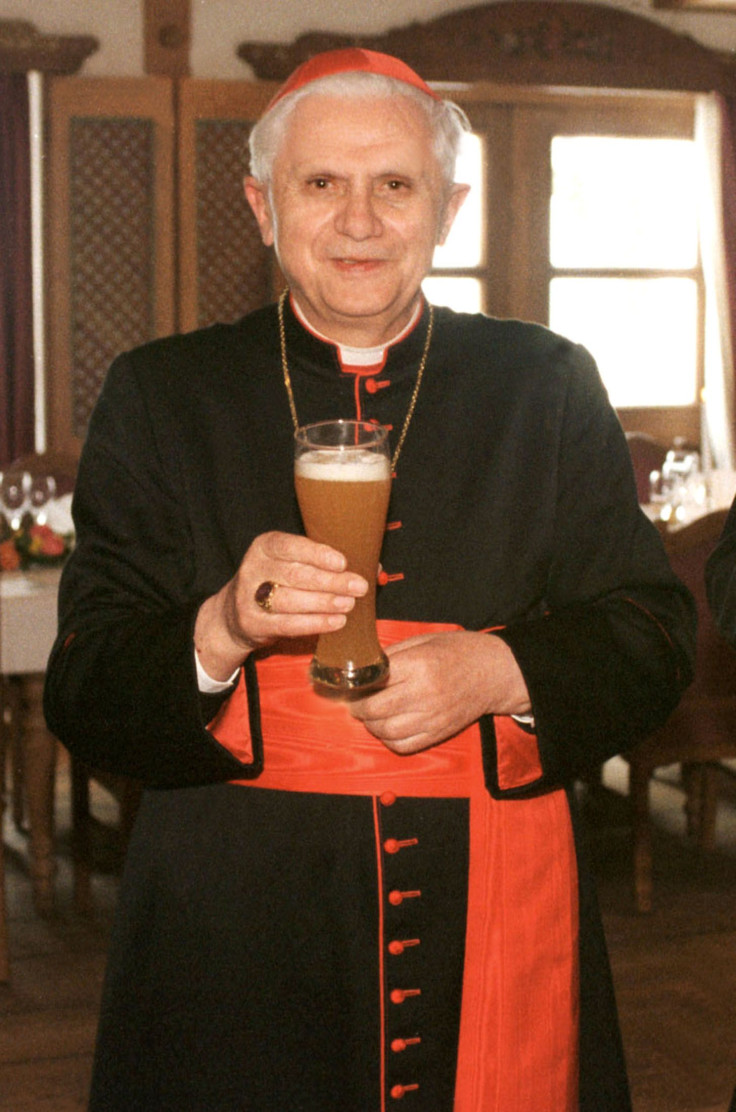 Pope Francis, of Argentina, has been snapped many times sipping mate, the traditional, caffeinated tea of his home country. (Mormon's aren't supposed to drink caffeine either; this analogy is getting a lot of mileage).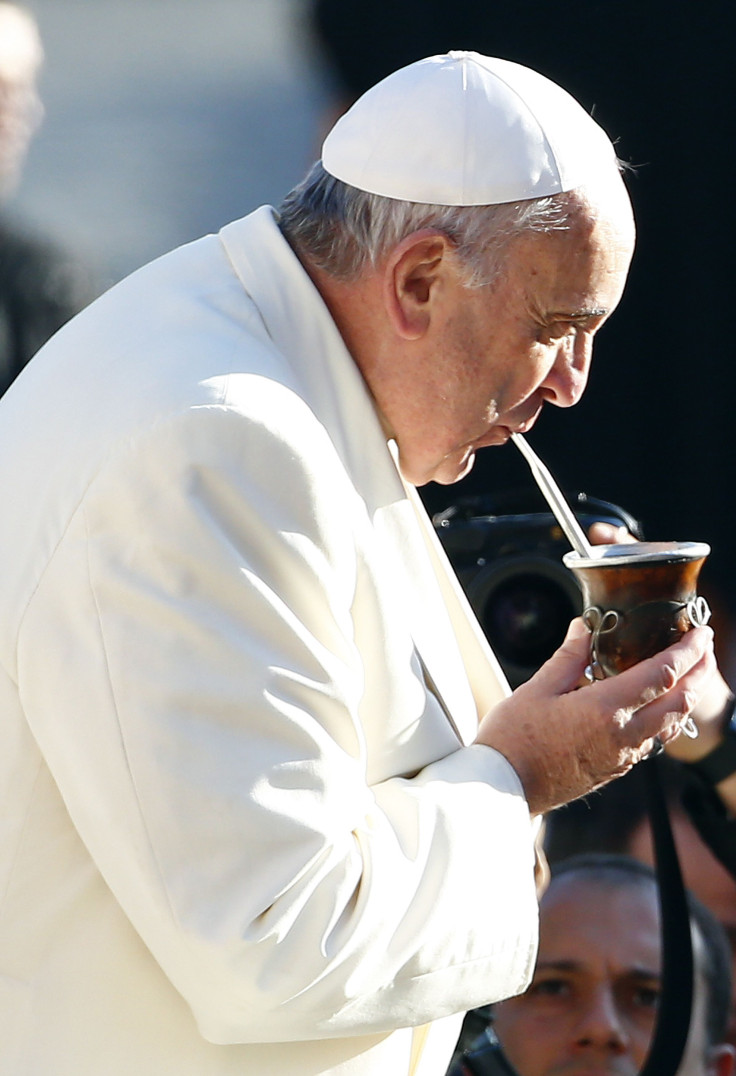 © 2023 Latin Times. All rights reserved. Do not reproduce without permission.