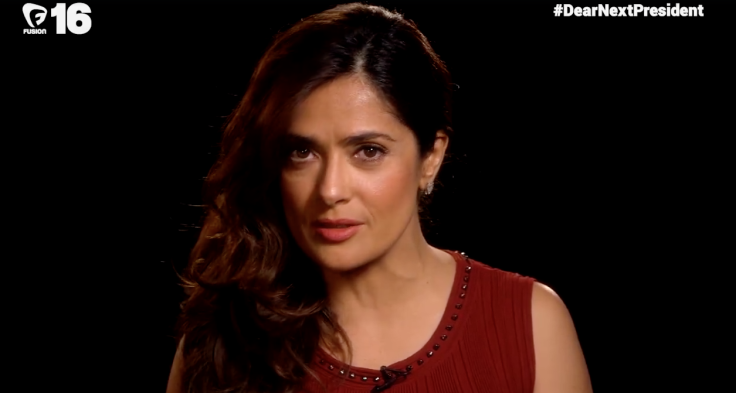 Last week, superstar Marc Anthony invited aspiring presidential candidate, Hillary Clinton, up on stage, during his October 2 concert at the American Airlines in Miami, to announce his support on the "Latinos for Hillary" campaign. "I want to recognize someone who came to the concert tonight. Please, with all the respect in the world, let's hear it for Hillary Clinton," said the singer. Now, Clinton has a new powerhouse standing by her: Salma Hayek.
The actress sent an email to the aspiring presidential candidate's camp, addressing, once again, Trump's derogatory and discriminatory comments. "It's incredible that the leading candidate of the Republican Party has been irresponsibly campaigning, using unfounded and insulting accusations against the Latino community to win votes," Hayek wrote in the email. "We are one of the largest, youngest, and fastest-growing groups in the United States of America," Hayek wrote. "We deserve a candidate who respects the contributions we have made to this country and understands how important it is that our community continues to thrive, all while treating us con dignidad y respeto."
In additon, Hayek made a video to make requests to the next Presudent of the United States, where she shared her thoughts. Although Clinton's numbers have been reportedly sliding, the candidate has 53 percent of Latinos supporting her, while only 21 percent have a negative perception, as reported through an NBC/Wall Street Journal poll. In addition, Clinton remains the Democratic front-runner.
© 2023 Latin Times. All rights reserved. Do not reproduce without permission.