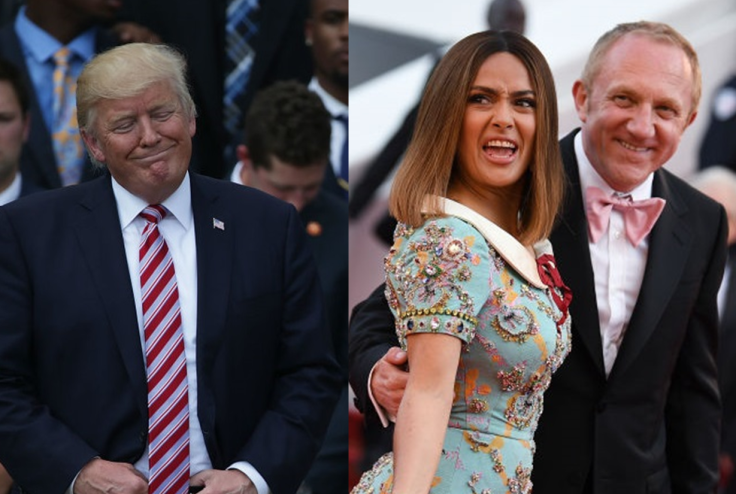 Every time Salma Hayek makes TV appearances, she makes pretty funny revelations of her life. This time, the actress from Veracruz, Mexico, revealed details of how Donald Trump asked her out while she was in a relationship with another man.
During an interview on "The Daily Show" with Trevor Noah, Hayek said she had met Trump at an event she had attended with Edward Norton, her boyfriend back then.
The actress reported that it all started when she felt cold and rubbed her arms. "He put his jacket on, and I turn around and my boyfriend — so charming, so nice — he said hello [to Trump]," she said. "[Trump] said, 'I'm sorry, your girlfriend, I saw she was cold.' And then he kept talking to my boyfriend."
According to Hayek, Trump befriended Norton and invited the couple to visit his hotel in Atlantic City, New Jersey, and asked for their phone numbers. Once Trump obtained the telephone numbers, the dynamics changed. Trump never called her boyfriend, but ringed her up.
"He's inviting me out, and I'm like, 'What about my boyfriend? Am I crazy? Are you asking me out? You know I have a boyfriend,'" she says, adding that Trump responded with, "He's not good enough for you. He's not important; he's not big enough for you. You have to go out with me."
Trevor Noah asked Hayek if she had married that boyfriend. "No," said the actress. "Then Trump was right," replied the comedian with laughter.
Hayek married French billionaire François-Henri Pinault, on Valentine's Day 2009 in Paris, and gave birth to daughter Valentina Paloma Pinault. Salma began her career in Mexico starring in the telenovela "Teresa," but her breakthrough role was in the 2002 film Frida as Mexican painter Frida Kahlo for which she was nominated in the category of Best Actress for an Academy Award, BAFTA Award, Screen Actors Guild Award, and Golden Globe Award.
© 2023 Latin Times. All rights reserved. Do not reproduce without permission.