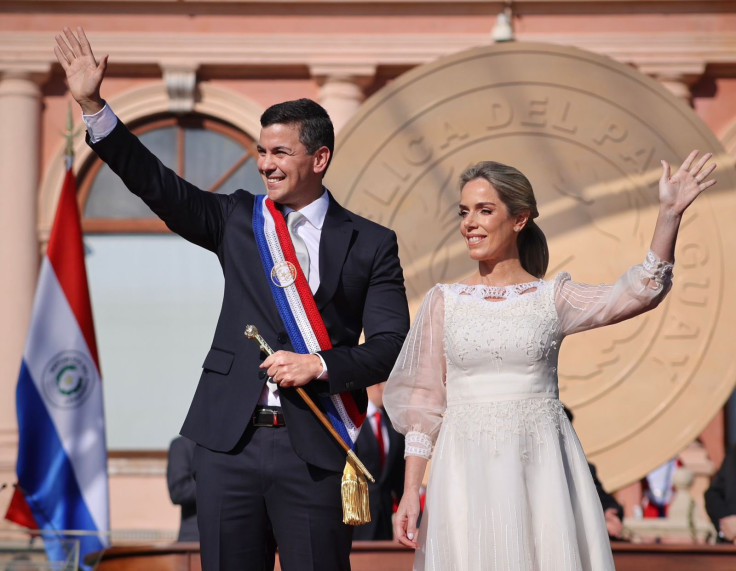 Former finance minister Santiago Peña was sworn in as Paraguay's president on Tuesday. He took his oath of office in the presence of Taiwan's vice president, William Lai.
Peña, a 44-year-old economist, thanked his embattled party leader Horacio Cartes during the ceremony held at the presidential palace in the capital of Asunción.
"Thank you for persevering, without faltering, in building consensus and searching for agreement despite differences," he told Cartes.
"Today, we bring that political calling to the service of all Paraguayans. We aim to be a party at the service of the nation," he added.
Peña promised to oversee a renewal of Paraguay, referred to as "the resurgence of a giant," and pledged to bring reforms in the health care system, create more jobs and more law enforcement in the streets.
Following the ceremony, which was attended by many dignitaries including the King of Spain Felipe VI, Peña took to social media.
He wrote that the people of his country entrusted him with the "highest distinction by electing me as President of the Republic, a responsibility that I will honor by working for better days for all Paraguayans."
"Our goal is to see that giant called Paraguay resurface!" he noted further.
Peña won the election in April with 43% of the votes, while his closest rival, Efraín Alegre, garnered only 28% in the country that had been dominated by the Colorado Party for 76 years.
The ruling streak had only been broken once — between 2008 and 2012 — when former Roman Catholic bishop Fernando Lugo Méndez became the president.
The Colorado Party has been at the center of corruption allegations for years. Outgoing President Mario Abdo Benítez, for instance, was in a crisis when his vice president, Hugo Velázquez Moreno, considered quitting after allegations of being involved in a bribery scandal were thrown at him. Cartes has also faced sanctions in America for "significant corruption" and "involvement with foreign terrorist organizations."
Peña, however, emphasized the need to fight corruption during his inauguration, calling for "firm and ethical leadership" built on transparency.
He then said he is convinced that corruption problems are "resolved with an independent, impartial and rapid justice."
Peña being Paraguay's new leader also means the country maintains formal diplomatic relations with Taiwan even though there is pressure from China. Taiwan is self-governing, but China refuses to recognize its sovereignty.
Peña said his team will "build alliances and cooperation with a geostrategic vision." He added that Paraguay's relationship with Taiwan "is an example of this and of Paraguay's friendly and cooperative spirit with nations."
© 2023 Latin Times. All rights reserved. Do not reproduce without permission.