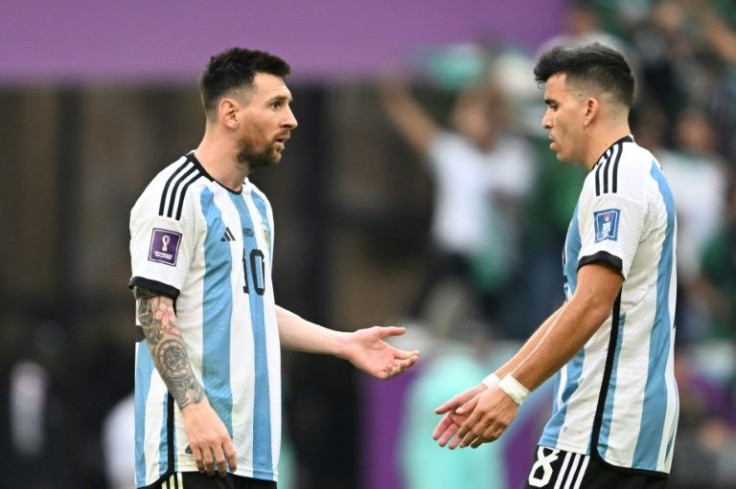 The Saudi Arabian king reportedly announced a national holiday after Saudi Arabia defeated Argentina at the 2022 FIFA World Cup on Tuesday, Nov. 22.
King Salman, of Saudi Arabia, declared a public holiday in Saudi Arabia on Wednesday, Nov. 23 to mark and celebrate one of the greatest World Cup shocks after the national team scored a stunning 2-1 victory over Lionel Messi's Argentina in their opening match at the 2022 World Cup on Tuesday, Nov. 22, ESPN reported.
To celebrate the victory over Argentina, a public holiday was declared and all public and private sector employees and students were given the day off.
In Tuesday's game, Messi put the South American side in the lead early into the game. However, Saudi Arabia, the second-lowest-ranked team in the tournament after Ghana, scored two stunning goals from Saleh al-Shehri and Salem al-DawsarI and held on for the shocking victory, Manchester Evening News reported.
Before Tuesday's win, Saudi Arabia had only won a total of three World Cup matches in its history.
After the victory, Saudi fans were seen celebrating en-masse outside the ground in Qatar. Celebrations continued on Wednesday, Nov. 23 after Saudi Arabia's King Salman announced a public holiday.
"One for the books," Saudi Arabia coach Hervé Renard said. "Sometimes things are completely crazy."
Saudi Arabia still must face Poland on Saturday and then take on Mexico next Tuesday in Group C. Despite the win against Argentina, both Poland and Mexico are probably still favorites against Saudi Arabia.
"All the stars aligned for us," said Renard.
Renard won the African Cup of Nations as coach of Zambia in 2012 and then again with Ivory Coast in 2015. He also coached Angola and Morocco. He guided Morocco to the 2018 World Cup in Russia. He took over Saudi Arabia in 2019.
"We made history for Saudi football," Renard said. "It will stay forever. This is the most important. But we also need to think about looking forward because we still have two games that are very, very difficult for us."
Renard suggested that Messi and Argentina probably underestimated Saudi Arabia since Saudi Arabia is only No. 51 in the FIFA ranking while Argentina is at No. 3.
"But you know the motivation is not like you are playing Brazil," he added.
© 2023 Latin Times. All rights reserved. Do not reproduce without permission.