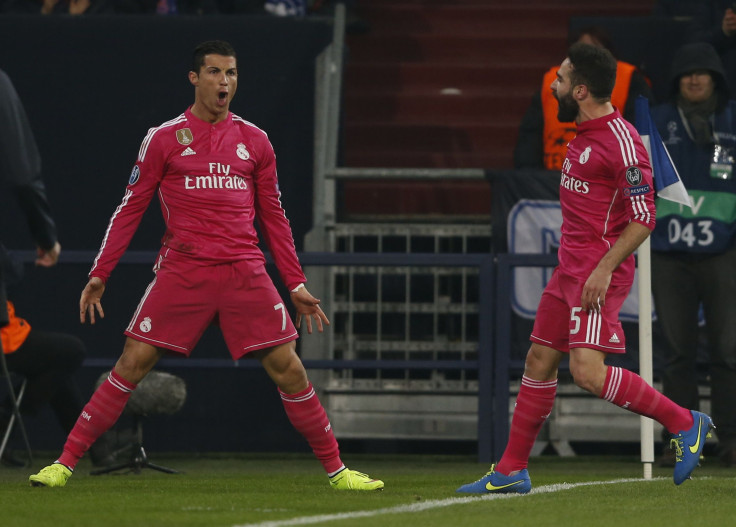 Cristiano Ronaldo ended a three-match and nearly 5-hour scoreless drought on Wednesday during Leg One of Real Madrid's UEFA Champions League round of 16 match against Schalke 04. Both Ronaldo and Marcelo scored to give Los Blancos the 2-0 victory.
Ronaldo had gone just over 4 hours and 59 minutes between goals, his longest drought of this season and his second longest drought since 2011. Ronaldo headed home the game's opening goal in the 26th minute after poor defense by Schalke allowed Ronaldo to slip untouched towards the net where he easily got his head on Daniel Carvajal's cross.
Things went from bad to worse for Schalke after that. Klaas Jan Huntelaar, the hero for Netherlands in their match against Mexico at the 2014 World Cup in Brazil, had to come off the pitch in the 33rd minute with an apparent leg injury. Huntelaar is by far the best offensive weapon Schalke had and it left them severely diminished on the attack.
Huntelaar's replacement, Felix Platte, nearly found the equalizer in the 74th minute when his screamer hit the cross bar and bounced away from the Bundesliga team. That shot proved to be the best and only opportunity Schalke would have on the day.
Brazilian defender Marcelo scored the ever-important insurance goal in the 79th minute after his rocket shot from outside the box just flew by the outstretched arm of Schalke keeper Timon Wellenreuther. Ronaldo was credited with the assist on the play.
Midfielder Toni Kroos was booked for a yellow card earlier in the match as was Schalke's Kevin-Prince Boateng. Both players could be suspended for the quarterfinals depending on which team advances if either star picks up another yellow card in their next match.
Ronaldo's goal now gives him 58 goals in UEFA Champions League play in exactly 58 appearances. With the victory, Real Madrid now has equaled the longest winning steak in Champions League history with 10 consecutive victories; the most since Bayern Munich in 2013.
Game Notes:
Real Madrid wore pink jerseys in honor of Valentine's Day, but really it was because UEFA would not allow them to wear their customary black jerseys.
© 2023 Latin Times. All rights reserved. Do not reproduce without permission.